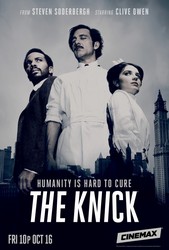 TV Info
---
Category
TV Series
Genre
Drama
Starring :
Clive Owen
, Andre Holland, Jeremy Bobb, Juliet Rylance, Eve Hewson,
Michael Angarano
, Chris Sullivan, Cara Seymour, Eric Johnson , David Fierro

July 11, 2014 12:07:20
Cinemax has awarded "
The Knick
", starring
Clive Owen
, a second season before its debut on August 8. The network announced the decision at the Television Critics Assn. summer press tour on Thursday, July 10.
Also starring Andre Holland, Eve Hewson and Juliet Rylance among others, "The Knick" centers on the doctors and medical staff at Knickerbocker Hospital in New York in 1900 when mortality rate was high and there were no antibiotics. Steven Soderbergh is the director for the first and the upcoming season. He also serves as executive producer alongside Clive Owen and Michael Sugar. Both seasons will have 10 episodes each.
...
June 18, 2014 02:06:56
After previewed in several teasers, the first trailer for Cinemax's new new series "
The Knick
" has finally arrived. The video gives a look at bloody scenes in the operation room and follows
Clive Owen
's doctor character who performs some of the surgeries. It appears that their unconventional methods will cause a demonstration.
"We men kind have progressed so far," Owen says in the video. "We live in a time of endless possibility." He adds, "With every blow I mend, every extra year I give to a patient, I know that at the very least, something has been won."
...