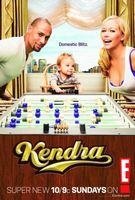 May 29, 2010 10:05:11
Kendra Wilkinson
, who is hot on the headlines, revealed in a segment of her reality show "
Kendra
" that she thinks her ex-boyfriend was jealous of her life as a celebrity. This is the side of story according to Kendra after the former flame Justin Frye sold the private tapes to Vivid Entertainment.
In a sneak peek of the upcoming episode, the ex-Playboy girl told her autobiographer that she once had a boyfriend she would "have sex every couple days" with. She admitted that they would tape it every now and then. "There's a lot of couples who do that," she said, adding "At that time I wasn't a celebrity. I didn't even know I was going to become a celebrity."
...