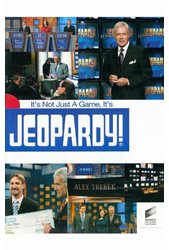 TV Info
---
Category
Game Show

Genre
Game-Show

Starring :
Alex Trebek


Jeopardy! has been granted trademark status as "America's Favorite Quiz Show" by the U.S. Patent & Trademark Office.
Jeopardy! is the #2 game show series in syndication and averages 25 million viewers each week.*
Since its 1984 syndication debut, Jeopardy! has been honored with 30 Daytime Emmy Awards, more than any other syndicated game show. Thirteen Emmys have been awarded for Outstanding Game Show/Audience Participation. Alex Trebek has won five Daytime Emmy Awards for Outstanding Game Show Host and was recently honored with a Lifetime Achievement Award. Jeopardy! was also awarded with a 2012 Peabody Award, one of the most prestigious honors in the industry. The awards panel credited Jeopardy! for its role in "encouraging, celebrating and rewarding knowledge."
In 2011 Harry Friedman became the first producer in television history to tie himself for Best Game Show, winning Emmy awards for Wheel of Fortune as well as Jeopardy!The highest cumulative amount won by a single Jeopardy! player is $3,455,102 in cash, bestowed on Brad Rutter of Lancaster, Penn. The total amount was a combination of his original appearance in 2002, the "Million Dollar Masters Tournament" in 2002, the "Ultimate Tournament of Champions" in 2005 and the "Jeopardy! IBM Challenge" in February 2011.
Ken Jennings set the record for the most consecutive games played by winning 74 games in a row during the 2004-2005 season, resulting in winnings of more than $2.5 million.More than 300 game shows have come and gone since Jeopardy! premiered in syndication in 1984. Jeopardy!'s reach extends beyond the television set. Each month, its Web site (www.jeopardy.com) receives nearly 400,000 visitors.
Prominent personalities who have recently presented special clues for Jeopardy! have included Vice President Joe Biden, First Lady Michelle Obama, Bill Clinton, Hillary Clinton, Oprah Winfrey, former White House Press Secretary Robert Gibbs Dr., Jane Goodall, Dr. Oz, Katie Couric, Glenn Close, Chevy Chase, Kyra Sedgwick, Hannah Storm, Al Franken, Tom Bergeron, Danica Patrick, Cesar Millan and a host of Nobel laureates.
Stars who've demonstrated their smarts as contestants on Jeopardy! include Anderson Cooper, Chris Wallace, Jodie Foster, Ashton Kutcher, Nathan Lane, Chris Matthews, Harry Connick, Jr., Neil Patrick Harris, Andy Richter, David Duchovny, Wayne Brady, Star Jones, Jane Seymour, Jason Alexander, Regis Philbin, Scott Hamilton, Mike Piazza, Larry King, Buzz Aldrin, Kareem Abdul-Jabbar, Tom Clancy, Kirsten Dunst, Naomi Judd, Kelsey Grammer, General H. Norman Schwarzkopf, Stephen King and Carol Burnett. Since "Celebrity Jeopardy!" debuted in 1992, more than $7 million has been donated to over 200 stars' charities.
The Jeopardy! production staff has six researchers and eight writers whose jobs are to create and assemble categories and questions for the series. Jeopardy! continues its online testing initiative as part of the contestant search process. Since online testing began in 2006, more than a million people have registered to take the test online and expanded Jeopardy!'s contestant pool to include more women, minorities and students. The online test is offered to adults, teachers, kids, teens and college students at various times of the year on the show's website at www.jeopardy.com.
Jeopardy!'s unique answer-and-question format has become a popular motivational tool adapted by a variety of national educators. Educational Insights' "Classroom Jeopardy!" is an affordable electronic version of the famous quiz show, which can be tailored by educators to suit their specific curriculum, while bringing the familiar sights and sounds of Jeopardy! (buzzers and all!) directly into the classroom.