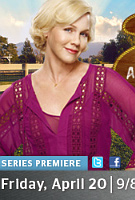 TV Info
---
Category
Reality TV
Genre
Reality
Starring :
Jennie Garth
, Corinne Dekker

April 21, 2012 08:04:08
Gearing up for the debut of her new reality TV show,
Jennie Garth
promises it won't turn off audience with anything "scandalous and gross." She explains to CMT, "It's a really sweet, heartfelt show, and it shows a part of me that's very vulnerable and real."
The former "Beverly Hills, 90210" star continues, "I just needed to slow it down for a little bit. As much as I love L.A. and I love what I do, I wanted to focus on my girls. I love nature and I love being in the country, so I just kind of wanted to have that for them for a while."
...