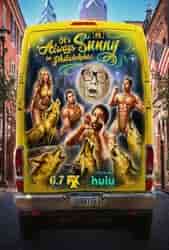 October 28, 2014 01:10:23
"
It's Always Sunny in Philadelphia
" isn't returning until January, but FXX has unleashed a promo for the tenth season of its original comedy series. Titled "Blaze of Glory", the video follows the five central characters who aim to make a history with a trip to space.
Mac, Dennis, Charlie, Dee and Frank in yellow uniform walk in "Apollo 13" or "Armageddon" fashion as local people cheer them. However, it's obvious that the mission was not properly prepared as an announcer says, "Training...little. Testing...none."
...
August 01, 2011 09:08:14
"
It's Always Sunny in Philadelphia
" season 7 promo has been unleashed with Mac's weight issue getting the highlight. The video sees Mat looking disbelief when learning how many pounds he has gained in a scene, and sobbing in front of a bowl of cereal in another.
A glimpse of Mac holding his chest is also featured before he ends up lying on a hospital bed, possibly because of his eating disorder. Still clutching on a plate of cookies, he is told by his friends that there is more a life than piles of food.
...