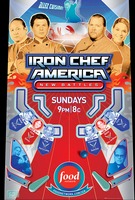 TV Info
---
Category
Reality TV
Genre
Reality
Starring :
Alton Brown

November 05, 2009 10:11:37
The new season of "
Iron Chef America
" will get a little taste of the White House. The First Lady Michelle Obama is going to be the guest on the Food Network program, being the one who reveals the secret ingredient that the chefs must use in their cooking challenge.
Cristeta Comerford, the White House executive chef, teams up with celebrity chef
Bobby Flay
to compete against the combination of Mario Batali and Emeril Lagasse. The battlefield would be Michelle's vegetable garden where participants are allowed to use whatever grow there to help create the meals.
...