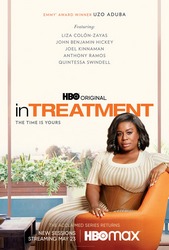 March 31, 2011 02:03:20
Despite winning an Emmy and a Golden Globe, "
In Treatment
" could not save itself from the chopping block. HBO has just cut the drama show from its programming due to declining rating. The first season was watched by more than 446,000 viewers but by season 3 finale, the number went down to 279,000 viewers.
However, HBO is not giving up on the show completely. "It's true that we have no plans to continue with 'In Treatment' as previously formatted," an HBO spokesperson said. "However, we are in continued conversations with the executive producers to find another way to continue telling these rich stories."
...
October 21, 2008 02:10:36
HBO drama series, "
In Treatment
", will have other two patients for its psychotherapist, Dr. Paul Weston.
Hope Davis
and John Mahoney will play roles on the series's second season as Dr. Weston's patients who suffer different kinds of mental illness.
In the series, Davis will play as Mira, a high-powered malpractice lawyer and Dr. Weston's former patient who blames the psychotherapist for her being single and having no children. It will be her first appearance on TV series since she worked for ABC's drama "Six Degrees" in the 2006-07 season. The actress is well known for her roles in some movies such as, "
About Schmidt
", "Next Stop Wonderland", and "American Splendor".
...