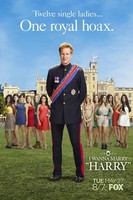 TV Info
---
Category
Reality TV

Genre
Reality, Romance

Starring :
Matthew Hicks


April 17, 2014 02:04:38
FOX released the first promo of its fake Prince Harry reality show. In "
I Wanna Marry 'Harry'
", 12 single women were duped into dating a British guy who looked like the royal member.
The 30-second teaser showed regular guy Matthew Hicks pretending to be Harry of Wales, getting down from a private helicopter to meet the ladies for the first time. "That's Prince Harry," one of the women said. Hicks took the contestants on high-end dates that included champagne in hand before confessing, "There's one more thing you should know..."
...
March 27, 2014 09:03:14
Twelve regular women will get a chance to get close to "Prince Harry", or what they believe to be the real prince. FOX is set to launch a new reality dating series titled "
I Wanna Marry 'Harry'
" which puts a Prince Harry lookalike on the center stage.
The show tricks 12 American single girls into believing that they are competing for the affection of the British royal. Prince Harry lookalike Matthew Hicks is given the royal treatment, receiving an intensive makeover to properly confuse the ladies.
...