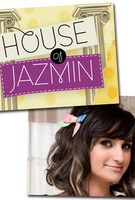 TV Info
---
Category
Reality TV

Genre
Reality

Starring :
Jazmin Whitley


August 13, 2009 01:08:58
A reality series about a young girl ready to take over the world with her talent in designing will be premiered on MTV on Tuesday, August 18. "
House of Jazmin
" is the new unscripted series about 20-year-old Jazmin Whitley who is trying to balance her life as a young adult and taking care of her growing fashion line, Li Cari.
Viewers will get an inside look at Jazmin's journey to make a mark on the fashion industry. From sketching and puling fabrics to selecting models that bring her designs to life on the catwalk, Jazmin has her hands full. Though Jazmin is the talented designer and mastermind behind the Li Cari line, it is the support of her family and friends that propels the brand to new heights.
...