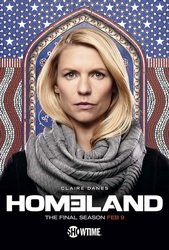 TV Info
---
Category
TV Series
Genre
Drama, Thriller, Action
Starring :
Claire Danes
,
Mandy Patinkin
,
Damian Lewis
,
Morena Baccarin
, Morgan Saylor, Jackson Pace, Sarah Sokolovic,
Rupert Friend
, F. Murray Abraham,
Sarita Choudhury
, Tracy Letts, David Marciano,
Miranda Otto
, Sebastian Koch, Alexander Fehling

"Homeland" is a psychological thriller that tells the story of Carrie Anderson (Claire Danes), a CIA officer battling her own demons, who becomes convinced that the intelligence that led to the rescue of Scott Brody (Damian Lewis) a U.S. soldier who had been missing and presumed deal for nine years, was a setup and may be connected to an Al Qaeda plot to be carried out on American soil.
Season five will pick-up two years after Carrie Mathison's (Emmy, SAG and Golden Globe Award winner Claire Danes) ill-fated tenure as Islamabad station chief. Struggling to reconcile her guilt and disillusionment with years of working on the front lines in the "war on terror," Carrie finds herself in a self-imposed exile in Berlin, estranged from the CIA and working for a private security firm.