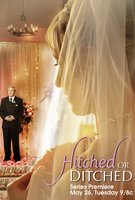 TV Info
---
Category
Reality TV

Genre
Reality, Romance

Starring :
Tanya McQueen


June 13, 2009 10:06:10
The CW's summer filler "
Hitched or Ditched
" will welcome a new couple who is about to get married, Courtney and Anthony. A webclip from the episode which is airing on Tuesday, June 16 is released to give the idea on how the two met and what made them fall for each other.
24-year-old Courtney and 25-year-old Anthony have been dating for two years, and their rollercoaster relationship has left the couple looking to take the next step. When Courtney, a clothing store owner slash model, and Anthony, a student and volunteer fireman, are presented with a surprise invitation to their own wedding, the couple faces intense opposition from all of their friends and family.
...