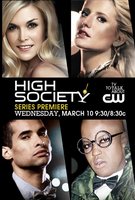 TV Info
---
Category
Reality TV

Genre
Reality

Starring :
Tinsley Mortimer, Dabney Mercer, Dale Mercer, Alexandra Osipow, Jules Kirby, Paul Johnson Calderon


July 13, 2010 10:07:10
American socialite Tinsley Mortimer's TV show "
High Society
" has been axed after just one season. The reality star appeared in the series with her friends and family, but Mortimer - along with her mother Dale Mercer and sister Dabney - reportedly complained over the way they were portrayed in season one.
And bosses at U.S. TV network The CW have now decided to pull the show following disappointing viewing figures, according to New York Post's gossip column Page Six.
...
March 13, 2010 02:03:28
The CW is still making every attempt to promote its new reality series "
High Society
". Although the show centering on Tinsley Mortimer debuted to only 1.26 million viewers, the network would bring it back for another episode on March 17. Some sneak peeks from the episode are released.
In the first clip, Jules Kirby scolds the maid in their hotel for not living up to her standard. Portrayed as a villain, the roommate of Tinsley's sister said that the show put her in the wrong shoes. "I am sorry if you were offended," she wrote on Facebook. "The show is scripted, and we are given lines and characters. My grandmother is married to a Jew ...Everything was cut and pasted to make it look like I was a stupid b---h, and I regret that they do not do a better job of saying it is a docu-soap, not a reality show."
...