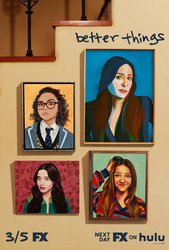 TV Info
---
Category
TV Series

Genre
Drama, Adventure

Starring :
Max Brown, Reece Ritchie, Condola Rashad, Caroline Ford, John Rhys-Davies, Antony Bunsee, Kelsey Chow


July 01, 2014 03:07:30
"
Hieroglyph
" will never see the light of day despite having received a straight-to-series order. It is reported that FOX has decided to cancel the drama before it premieres due to creative reasons.
Sources say the show's writers were informed on Monday that the network would not move forward with the project. Only one episode had been filmed for the sexy historical thriller set in Egypt, but scripts had been written for several more episodes. Words are, the stories weren't coming together as executives hoped.
...
October 18, 2013 01:10:21
FOX has given a straight-to-series order to "
Hieroglyph
", an ancient Egypt drama which narrowly missed the cut for a pilot order at the network during the 2011-12 development season. Scheduled to begin filming in early 2014, the new show is set to launch for the 2013-14 season.
The fantastical action-adventure show follows "a notorious thief who is plucked from prison to serve the Pharoah, navigating palace intrigue, seductive concubines, criminal underbellies and even a few divine sorcerers." FOX's chairman of entertainment Kevin Reilly says, "We wanted to do a show about deceit, sex, intrigue in the court and fantastical goings-on - no better place to set that than ancient Egypt."
...