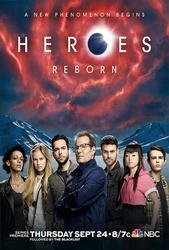 TV Info
---
Category
TV Series

Genre
Drama, Sci-Fi


June 17, 2014 11:06:24
Jack Coleman
has become the first "
Heroes
" alum to sign on for the reboot version. The actor who played Noah Bennett a.k.a. HRG (the Man in the Horn-Rimmed Glasses) on the original series will return for the miniseries titled "
Heroes: Reborn
".
"He's back," so it's announced on the official Twitter account for "Heroes: Reborn" along with a picture of Coleman's Noah. He was initially a recurring character on the show which debuted in 2006, but Coleman was later promoted to regular midway through season 1 as the character gained popularity among fans.
...
February 23, 2014 04:02:11
NBC has officially announced the revival of its once-fruitful series "
Heroes
". The return is marked with the release of a teaser that doesn't give away anything other than the retitled "
Heroes: Reborn
".
"The enormous impact 'Heroes' had on the television landscape when it first launched in 2006 was eye-opening," NBC entertainment president Jennifer Salke said of the show's recommission. "Shows with [this] kind of resonance don't come around often and we thought it was time for another installment."
...