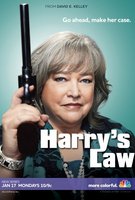 January 10, 2012 03:01:40
A new sneak peek from "
Harry's Law
" upcoming episode which will feature
Erica Durance
as a guest star has been shared. In the snippet, the former "
Smallville
" actress' character sits as a defendant in a court because a man accuses her of assaulting him.
In the January 11 outing of the NBC legal series, Durance plays mentally unstable woman, Annie Bilson, who suffered abuse in the past. She seeks vigilante justice against men who abuse women by dressing up as Wonder Woman. Annie seeks help from her old high school classmate, Adam, after she lands on the wrong side of the law.
...
December 30, 2011 10:12:59
While
Adrianne Palicki
's Wonder Woman never had a chance to grace small screen,
Erica Durance
will be seen dressing up as the superheroine on "
Harry's Law
". The Lois Lane of "
Smallville
" will put on the costume, which is akin to the one worn by Palicki on David E. Kelley's "Wonder Woman" pilot, when she guest stars on the legal drama series.
In the Wednesday, January 11 episode of the NBC show, Durance will appear as Annie Billson, a psychologically disturbed woman who believes that she is actually the famed vigilante. Her character turns to Adam (Nate Corddry) for help after she is charged with a crime.
...