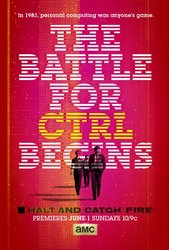 TV Info
---
Category
TV Series
Genre
Drama
Starring :
Lee Pace
,
Scoot McNairy
, Mackenzie Davis, Kerry Bishe, Toby Huss

"Halt and Catch Fire" which stars Lee Pace, Scoot McNairy, Mackenzie Davis and Kerry Bishe, will pick up in early 1985 and center on the rise of Mutiny, Cameron (Davis) and Donna's (Bishe) start-up company that is built upon the most disruptive idea of the modern era - the Internet. At the same time, Joe (Pace), Gordon (McNairy) and Bosworth (Toby Huss) will be caught up in their own "online" wave, remaking the tech landscape all around them, as they attempt to heal old wounds and deal with the fallout of season one.
"Halt and Catch Fire's" second season will explore themes that tap directly into the modern zeitgeist such as the thin line separating genius from self-delusion, the fragility of human connection, and everyone's desire, especially in today's tech-obsessed world, to leave a meaningful mark and do something that truly matters.