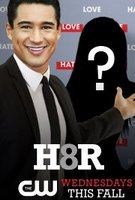 TV Info
---
Category
Reality TV
Genre
Reality, Celebrity
Starring :
Mario Lopez

June 04, 2011 01:06:16
Mario Lopez
is going to bring celebrities face to face with their haters on "
H8R
". In a sneak peek to The CW's new series,
Kim Kardashian
will meet a woman who alleges the star's butt is fake, while
Snooki
will confront a man who calls her "sucks".
The haters will get to know the stars better by spending some time together. Kim's hater, for an example, learns that the newly-engaged socialite has done some good things outside her reality shows. As for Snooki's hater, he declares he is no longer a "hater" after they have dinner together which the "
Jersey Shore
" guido helps to prepare.
...