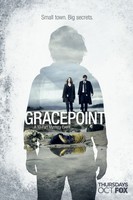 TV Info
---
Category
TV Series
Genre
Drama
Starring :
David Tennant
,
Anna Gunn
, Virginia Kull,
Michael Pena
, Madalyn Horcher, Kendrick Sampson,
Nick Nolte
,
Jacki Weaver
, Kevin Rankin,
Kevin Zegers
,
Jessica Lucas
, Sarah-Jane Potts, Stephen Louis Grush

November 19, 2013 08:11:45
Anna Gunn
has landed her first TV role post-"
Breaking Bad
". The Skyler White depicter, along with
Jacki Weaver
, has just been added to the cast of FOX's "
Gracepoint
", a remake of British crime drama series "
Broadchurch
".
Gunn, who recently won an Emmy Award for Outstanding Supporting Actress in a Drama Series for her role on the AMC series, will play Detective Ellie Miller, a happily married wife and mother who is looking forward to a promised promotion.
...
August 02, 2013 02:08:35
FOX is going to produce an American version of ITV's "
Broadchurch
". The network has announced that it will turn the British crime drama into a limited series as part of its long-form "event" series.
" 'Broadchurch' is the kind of storytelling that grabs your attention and keeps you riveted with every minute - which is exactly what we look for in an event series," says Kevin Reilly, FOX entertainment chairman, in a statement. "We love the layered characters, we've seen how well-received it's been in the U.K., and we're lucky to be able to bring a new version of this mystery to the U.S. audience."
...