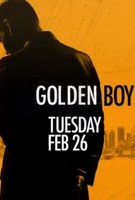 December 11, 2012 03:12:40
Hyping up the upcoming premiere of "
Golden Boy
", CBS has released a four-minute promo of the new series. It opens with a bloody action on the street involving young police officer Walter William Clark, Jr. (
Theo James
), whose heroic action leads to his promotion to homicide detective.
Seven years later, he becomes the youngest police commissioner in the history of New York City. As he's interviewed for a story about his career, Walter flashes back on his hard-fought journey from street kid to the most powerful man in law enforcement and the high personal and professional cost he pays to achieve it.
...