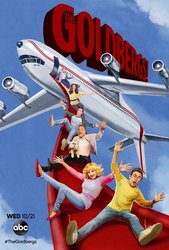 December 18, 2014 08:12:32
Charlie Sheen
is revisiting his "Ferris Bueller's Day Off" role on "
The Goldbergs
". The "Spin City" star is set to reprise his role as the "Boy in the Police Station" in an upcoming episode of the ABC sitcom.
The episode which pays homage to the 1986 film is scheduled to air in early 2015. According to
PEOPLE
, "the episode will follow Barry (Troy Gentile) as he fakes being sick in an attempt to create his own epic, Bueller-esque day off." It's his sister Erica (Hayley Orrantia) who gets to meet Sheen's character at the police station after ratting out her brother for faking being sick.
...
November 02, 2013 12:11:10
Two of ABC's new comedies have been granted full-season orders. "
The Goldbergs
" and "
Trophy Wife
", which are among the network's Tuesday line-up, will now air 22 episodes in its first-year run.
Rebel Wilson
's "
Super Fun Night
" will also last a little longer. The sitcom has received a vote of confidence from the network in the form of an order for four more episodes.
...