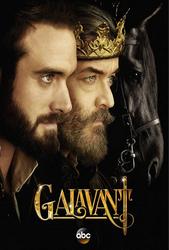 November 28, 2014 11:11:07
ABC is gearing up to release musical comedy "
Galavant
" and has released more promos for the upcoming new series. One of the short sneak peeks highlights the titular character played by Joshua Sasse.
"In a dark and dangerous world, a hero is coming," a narrator says as the scenes show Galavant's nemesis King Richard (
Timothy Omundson
) and Galavant's ladylove Madalena (Mallory Jansen) before capturing Galavant in action. Later, looking less charming in a dull outfit, Galavant runs to his horse and tries to hop on it but he falls instead.
...
August 01, 2014 12:08:20
John Stamos
will be singing on ABC's fairytale musical comedy "
Galavant
" during his next visit to the small screen. The former "Full House" star is tapped to play a rival to the titular knight played by Joshua Sasse.
"We are absolutely thrilled that John Stamos is joining us on the series as Galavant's longtime rival - a dashing knight who squares off against him once more in a local joust," said executive producer Dan Fogelman. "We've wanted John to do an arc on this show since inception."
...