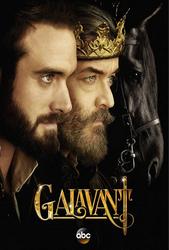 TV Info
---
Category
TV Series
Genre
Comedy
Seasons
1
Production Co.
ABC Studios, Rhode Island Ave. Productions
Distributor
ABC
Official Site
click here

The Story
---
Once upon a time, the dashing hero Galavant (Joshua Sasse) was a slayer of dragons, protector of the innocent, and defender of the less fortunate. But one day, the evil King Richard (Timothy Omundson) fell for Galavant's ladylove Madalena and kidnapped her. On Madalena and King Richard's wedding day, Galavant courageously fought his way back to the palace to rescue his love. And while this is where most fairytales end happily ever after, it's where the tale of GALAVANT truly begins. Madalena stuns Galavant when she announces that she chooses fame, fortune, and the crown over Galavant and breaks his heart.
Five years later we rejoin Galavant, heartbroken and drowning his sorrows in drink. Having given up on heroics, he's a bit out of shape and flat broke. But his faithful squire Sid sees a momentous opportunity when Princess Isabella of Valencia arrives in search of "The Great Galavant." She asks him to save her kingdom from its evil invader... none other than King Richard himself. Galavant must get back in the saddle, literally and figuratively, to take revenge on his nemesis, win back Madalena, and restore his "happily ever after." But our fallen hero doesn't realize that Isabella might not be revealing the whole story...
The Stills
---