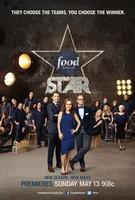 August 15, 2011 03:08:02
Jeff Mauro is officially the new "
Food Network Star
" after winning season 7 of the cooking contest. He beat out the other top 2 finalist Susie Jimenez with his "easy way in front of the camera and an idea no one else had put him over the top" in the season finale which was aired on Sunday, August 14.
Mauro's show "Sandwich King", whose pilot was shot as the last challenge of the reality series, will start airing on Sunday, August 21 at 11:30 A.M. on Food Network. He was very nervous during the filming, but managed to deliver great jokes on the final result.
...