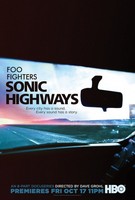 TV Info
---
Category
Reality TV
Genre
Reality, Documentary
Starring :
Foo Fighters

June 04, 2014 10:06:19
HBO has shared the first teaser for its documentary series "
Foo Fighters Sonic Highways
". First debuted during the 29th Annual Rock and Roll Hall of Fame Induction Ceremony on the cable channel last weekend, the video is narrated by
Foo Fighters
' frontman
Dave Grohl
.
In it, Grohl declares their mission to record their upcoming eighth album, which is yet to be titled, "at different studios all over the country." He continues, "Doing something to make it new. You can tie all of these people and places together with these sonic highways. This is a musical map of America."
...