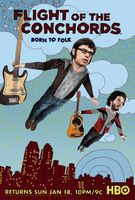 December 12, 2009 10:12:14
Flight of the Conchords
decide that it is time to go back to their roots in 2010. The New Zealand band who play fictionalized version of themselves on "
Flight of the Conchords
" would not return for a third season in order to concentrate on their music tour.
"We've noticed the less we say about the future of the show, the more people want to talk about it, so in an effort to reverse this trend we are today announcing that we won't be returning for a third season," the pair wrote at their website. "We're very proud of the two seasons we made, and we like the way the show ended."
...