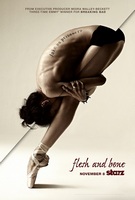 TV Info
---
Category
TV Series

Genre
Drama

Starring :
Sarah Hay, Ben Daniels, Emily Tyra, Irina Dvorovenko, Raychel Diane Weiner


January 28, 2014 03:01:31
After pirates, ballerinas are heading to Starz next. The network has ordered a new drama series titled "
Flesh and Bone
" about a young ballet dancer, who has a distinctly troubled past, as she joins a prestigious ballet company in New York.
The "dark and gritty" show will "unflinchingly explore the dysfunction and glamour of the ballet world." It is created and executive produced by Moira Walley-Beckett, who was serving as a writer and producer on AMC's "
Breaking Bad
".
...