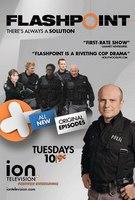 TV Info
---
Category
TV Series
Genre
Drama, Action, Thriller
Starring :
Hugh Dillon
,
Enrico Colantoni
,
Amy Jo Johnson
,
David Paetkau
, Cle Bennett, Michael Cram,
Mark Taylor
, Sergio Di Zio, Ruth Marshall

Flashpoint is a drama that depicts the emotional journey into the tough, risk-filled lives of a unique group of the police officers in the Strategic Response Unit (SRU).
The special tactical unit is tasked with extreme situations like hostage rescues, gang busts, defusing bombs and preventing suicide attempts.
Members of a highly-skilled tactical team, they're also trained in negotiating, profiling and getting inside the suspect's head to diffuse the situation and help save lives.