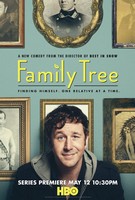 TV Info
---
Category
TV Series
Genre
Comedy
Starring :
Chris O'Dowd
, Tom Bennett, Nina Conti, Ed Begley Jr.,
Fred Willard
, Michael McKean, Matt Griesser

April 09, 2013 03:04:14
HBO released a new promo for "
Family Tree
". The show follows Tom Chadwick (
Chris O'Dowd
), a jobless 30-year-old man who just broke up with his girlfriend. He began questioning his real identity after his late great aunt he never met left him a mysterious box.
The trailer gives a look at Tom's crazy journey in order to find his real family. He tries to find his family's military past and he even goes to Los Angeles. During his journey, he discovers a new world and meets the people he never knew existed.
...