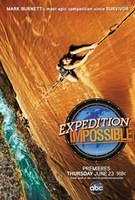 TV Info
---
Category
Reality TV

Genre
Reality, Adventure

Starring :
Dave Salmoni


June 18, 2011 10:06:12
This summer, ABC presents a new reality series "
Expedition Impossible
" which takes its contestants overseas. The first 15 minutes of the first episode have now been made available for viewing pleasure, following 13 teams of 3 who are going through vast and dry deserts in Morocco.
They are racing through various physically demanding challenges "over snow capped mountains and through raging rivers in the beautifully exotic, fabled kingdom of Morocco." The winning team will deserve $150,000 grand prize and a brand new Ford Explorer for each of the members.
...