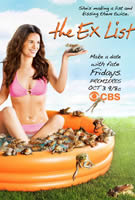 October 04, 2008 01:10:45
Following the premiere of their new dramedy series "
The Ex List
" on Friday, October 3, CBS have presented a sneak peek into the show's second episode entitled "Climb Every Mountain Biker". To be aired next Friday, October 10, the new episode will follow Bella's search of Mr. Right after finding out that she has dated her soul mate.
While dining out with her girlfriends, she accidentally meets one of her former boyfriends, Jake Turner. No longer a couch potato Bella's dating back then, Jake has become a fitness buff. Trying to prove to Bella that he isn't a slacker anymore, he plans vigorous activities for their dates from cycling to rock climbing. Meanwhile, Cyrus invents a drinking game for the gang involving 'googling' their exes.
...