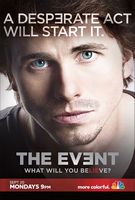 TV Info
---
Category
TV Series
Genre
Drama, Thriller
Starring :
Jason Ritter
,
Sarah Roemer
,
Blair Underwood
,
Laura Innes
, Scott Patterson,
Ian Anthony Dale
,
Taylor Cole
,
Clifton Collins Jr.
, Zeljko Ivanek,
Virginia Madsen

October 19, 2010 09:10:10
After canceling "
Outlaw
", NBC moved on to announcing the shows which survive the casualty this Fall. Freshmen "
The Event
", "
Law & Order: Los Angeles
", and "
Outsourced
" have just received a full-season order.
"We are pleased with the quality of The Event, Law & Order: Los Angeles and Outsourced, and feel they are an important part of helping to re-build our schedule and our studio pipeline," NBC president Angela Bromstad said in the press release. "We believe in these new series and the creative auspices behind them."
...