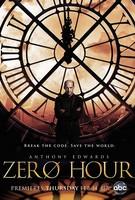 TV Info
---
Episode Premiere
February 28, 2013

Distributor
ABC

Genre
Drama

Show Period
2013 - 2013

Production Company
ABC Studios


Cast and Crew
---
Director
Stephen Williams
Screenwriter
Zack Estrin
Main Cast
Additional Cast
Charles S. Dutton
Dylan Baker as FBI Chief Terrance Fisk
Grace Gummer
Ken Leung
Synopsis
---
New York-Hank dreams that he finds Laila. This is moments before locusts come crashing into a window. He awakens to find himself on the plane ride home with Beck as they descend into New York. The FBI sets up shop in the Modern Skeptic offices. Hank's parents also come by to show their support. They seem evasive when asked about any family that comes from Germany. We later learn they are, indeed, hiding something from their son. In another part of the office, FBI Agent Paige Willis is able to determine that Vincent is in Paris. Hank sees Laila on a video. She puts her hand to her mouth. She's sending him a message.
Paris, France-Laila is ordered to fix the clock White Vincent found in India. She gets it display a code that reads PR-642. Back in the States, Hank says he used to chew gum whenever he got nervous. He was chomping on a wad just before giving a speech until Laila reminded him to ditch it. She did so by pointing at her mouth to signal him to stick it under a desk. That's where Laila leaves a clue in Paris. She etched "PR-642" under a drawer. Hank's dad says it's an old phone number. They are looking for someone in Princeton, New Jersey.
Princeton, NJ-White Vincent drags Laila through the stacks of the Princeton Public Library. They find an old telephone directory from 1938. The PR-642 number was located at a place known as IAS. When Vincent isn't looking, Laila pulls out encyclopedia volumes containing those three letters to distinguish them from the other books on the shelf. It's another clue-one that Hank figures out once he and Beck arrive at the library. IAS Stands for the Institute of Advanced Study, which happens to be in Princeton. The office where the phone number was listed once belonged to another New Apostle. His name: Albert Einstein.
The team realizes that Einstein was given a clock to protect. A photograph of his office reveals a blackboard featuring a section of a long equation having been erased. Not seen in the photo is an old grandfather clock Einstein once owned. Vincent kills the guards where the clock was being stored. Hank and Beck get to the scene 30 minutes too late. In other news, a young boy is seen intently watching fires on televisions in a store window. Vincent later informs this mystery kid that he has the first three clocks. He tells that lad to relay a message to an unknown woman to say that she'll soon have the object she seeks.
Rachel, Arron and Paige believe the clock Vincent took isn't the right one. Einstein hid the real one in the one place no one would ever find it-his mind. The answer lies within the erased part of the blackboard. Paige uses a cool electromagnetic spectrometer to allow them to read what was wiped away. She is able to decode the equation so it reads "Battlefield Park-Mercer Oak." It's a serene spot where Einstein used to stop for lunch. This is where the real clock is hidden.
As she searches for clue in Einstein's clock, Laila tells Vincent a story about yellow push pins. The details of her tale are meant to emphasize just how much she and her husband love each other. Hank happens to see a yellow push pin on the ground outside the building where they're analyzing the blackboard. Then he finds another. He believes Laila is leaving him more clues. Hank follows a trail of yellow push pins until it leads him to any empty building where White Vincent is waiting for him. He fell right into his trap.
White Vincent refers to Hank as "brother" as he asks to about his past. Hank reveals that he and Laila met at Cambridge at the unveiling of the Corpus Clock. It's a timepiece with a locust seen eating away time. It's a reminder that time always has the upper hand. It always runs out. White Vincent opens Hank's eyes wide wanting to see the flaw. When a confused Hank punches Vincent, he sees that the terrorist's eye is just a field of white. Vincent flees when Beck arrives on the scene. He lets her know that her husband wasn't collateral damage from the plane he blew up. The other people onboard were. Her husband, Theo Reilly, was the target.
Hank finds the real clock at Mercer Oak. Arron pulls a piece of paper from inside. It's a message from Einstein. It's a warning of the danger that's out there. In other news, Father Mickle asks some of his fellow priests if they know of any Rosicrucians who would harm others. Father Reggie tells him of a sect that calls themselves the Shepherds. Their mission is to protect the holiest of relics from a group known as the Great Pirates. We're left wondering if the mystery woman who receives the message White Vincent gave to the young boy falls into this category. After all, she has a tank of locusts in her home.