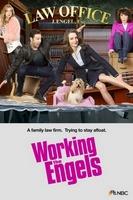 TV Info
---
Episode Premiere
July 31, 2014

Distributor
NBC

Genre
Comedy

Show Period
2014 - 2014

Production Company
Halfire-CORE Entertainment, Shaw Media


Cast and Crew
---
Director
James Genn
Screenwriter
Rupinder Gill
Main Cast
Additional Cast
Jacob Tierney
Benjamin Ayres
Parveen Kaur
Darryl Hinds
Synopsis
---
In a moment of weakness, Jimmy swipes a man's purse on the street, only to discover it belongs to Denny, Sandy's ex-husband. He learns Denny already has plans to remarry - and his engagement party is that night!
Right on cue, Sandy receives divorce papers at the office and immediately spirals into a depression. Jimmy, scared that Sandy will relapse into her pill-popping days if she learns about the engagement party, struggles to keep it a secret. When Jenna finds out, she agrees with his method, and they capitulate to every demand Sandy makes, including the restaging of an old family photo that reminds Sandy of better times. But when everyone gathers for the shot, Jimmy fails to keep the secret under wraps, and Sandy, dressed as the Bride of Frankenstein, flees from the office to seek revenge on Denny at his engagement party.
All this occurs while Jenna juggles meetings with her new client - billionaire software mogul Sam. He sought her out to orchestrate his latest dealing, but Jenna soon realizes he thinks she's someone else, a mutual acquaintance named Party Patty. She pretends for the sake of the enormous paycheck - and to distract Sam from the fact that Ceil crashed her laptop and lost all of Jenna's files. While Ceil negotiates with a tech geek to fix the computer, Jenna struggles with the charade. She comes clean to Sam about her true identity once her family resolves to find Sandy, and to Jenna's total shock, Sam decides to keep her as his lawyer anyway.
Ceil, Jimmy and Jenna track Sandy down just outside the party and encourage her to move on with her life and sign the divorce papers. She eventually concedes, and Jimmy and Ceil volunteer to deliver the signed papers to Denny... while also destroying Denny's cake and causing a general ruckus at the party. But the true victory appears the next day in the form of the tech geek from earlier. As promised by Ceil, in exchange for fixing Jenna's computer he receives a date from one of her single daughters - and he chooses Sandy.