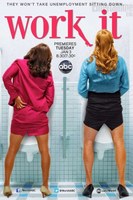 TV Info
---
Episode Premiere
January 10, 2012

Distributor
ABC

Genre
Comedy

Show Period
2012 - 2012

Production Company
Warner Bros. Television


Cast and Crew
---
Director
Gary Halvorson
Screenwriter
Ted Cohen, Andrew Reich
Main Cast
Amaury Nolasco as Angel
Ben Koldyke
Beth Lacke
John Carapulo
Kacie Lynch
Kate Reinders
Kirstin Eggers
Rebecca Mader as Grace Hudson
Rochelle Aytes
Additional Cast
Stephen Tobolowsky
Sam Anderson
Synopsis
---
Today is Lee and Angel's first day out in the field. They're excited. And when they get out there, Angel has one quick question for Lee before they get going: "How do I sell stuff?" Angel: Not really a details man. But he has a point. "I'm a mechanic," he tells Lee. "You're actually a salesman. You're just pretending to be a woman. I'm doing two pretendings, bro!" Lee gives him a pep talk, but confidence might not help a pharmaceutical salesperson who doesn't know the name of the drug he's selling.
Lee has his own problem: an uphill climb with a doctor who's just not interested, no matter how much information Lee throws at him. Angel, of course, is bombing with Dr. Deutch. That is, until he mentions daiquiris. Pretty soon, the doc has given Angel his secret daiquiri recipe and placed a huge pharmaceutical order.
You see, Angel embraces his, ahem, female charms a little more readily than Lee does, and ends up having a great day. Lee didn't and he's jealous. "You cheated," Lee says later at the bar. "What were you selling, your nonexistent hoo-ha?" It gets more awkward when Dr. Deutch calls Angel's cell phone looking for Lady Angel. And he wants a date.
Come on, you knew that was coming.
Lee complains to Connie about "a woman" at work who flirted and made a bunch of sales while he got skunked, and how unfair it is. "Oh, babe, we're allowed to do that," Connie replies. "I'm an awesome nurse, but sometimes I need to break out the red bra. Need to leave early? Red bra. More comfortable chair? Red bra. Raise? Red bra. Actually, that was no bra."
Lee goes back to see the doctor he struck out with the day before. With a red bra. And thong underwear. It's as awful as it sounds. Angel is doing better, but he's also got to go out to dinner with Dr. Deutch, so "winning" is pretty nebulous here. He tries to get out of it, but while they chat in the bathroom, Kelly tells Angel not to cancel or he'll hurt Dr. Deutch's feelings. "Just go and pretend to like him," she advises. Now Angel has to do three
pretendings.And it gets worse for Angel when Lee suddenly springs out of a stall. He's heard the whole thing. "If you didn't want to go on a date with a doctor, maybe you shouldn't have paraded in there flaunting your bottom like the town pump." Then Lee realizes that though he might not as sexy or as fun as Angel, he does have guts. And he goes back to the doctor again, and just plays it straight. The doc admires Lee's chutzpah, and asks for samples.
At dinner, Dr. Deutch gets kinda handsy with Angel. He's just about to make Angel lick whipped cream off his fingers. But Lee comes to the rescue, posing as Angel's boyfriend. It's...romantic?