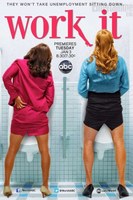 TV Info
---
Episode Premiere
January 03, 2012

Distributor
ABC

Genre
Comedy

Show Period
2012 - 2012

Production Company
Warner Bros. Television


Cast and Crew
---
Director
Beth McCarthy-Miller
Screenwriter
Ted Cohen, Andrew Reich
Main Cast
Amaury Nolasco as Angel
Ben Koldyke
Beth Lacke
John Carapulo
Kacie Lynch
Kate Reinders
Kirstin Eggers
Rebecca Mader as Grace Hudson
Rochelle Aytes
Additional Cast
Josh McDermitt
Julia Cho
Mylinda Royer
Garz Chan
Synopsis
---
Lee Standish, devoted family man and onetime salesman at St. Louis Pontiac, is out of work now that they've closed its doors for good. His pal Angel, is in the same boat. No longer head mechanic at Pontiac, he spends his time with Lee and their buddy Brian, who was a nearly accident-free courtesy shuttle driver at the defunct automaker. (He's also Lee's brother-in-law.) Lee had an interview today, which is great news. Except the company folded while he was still in the interview. Bright side: He snagged some ketchup packets and creamer on his way out.
It's that bad. Lee had to shut off his daughter Kat's cell phone, and his wife, Connie, is supportive, but clearly worried. She's scheduled him for a doctor's appointment to try to cram it in before his insurance runs out. Lee begins to protest before Connie cuts him off: "As a woman, I'm going to have to ask you to stop comparing prostate exams to the pinball scene in The Accused. It's not OK."
It seems like a stroke of luck when Lee overhears a woman saying they're hiring salespeople at her pharmaceutical company -- but they're only hiring women. The woman explains: "We're kinda just looking for female salespeople. We've had some guys, but the doctors seem to want to nail them less." To make it worse, Lee's insurance actually already ran out, and before he leaves, he's stuck with a $900 bill. And he can't pay it in ketchup packets and creamer.
So what's a man to do? Well, Lee starts with the obvious: Tucking his junk and dressing in drag to grab that pharmaceutical gig.
Wait, what?
Yes, that's right. But the craziest part is that it actually works. Lee did his research on the company, and with the major hurdles of appearing to have breasts and a distinct lack of penis cleared, his sales abilities and knowledge land him the job. The gals at Coreco Pharmaceuticals are quite welcoming, though wary of his size...and fashion sense..and the fact that he played college football. He gets some cred for his time at Pontiac, which he explains was tough as a, um, woman: The guys were always sassing me, or patting my fanny, or...ogling my teats." Yikes.
But that's not all. Lee and Angel had a deal: If Lee is working, he'll help Angel get a job too. So Lady Lee shows up at Astro Taco and reveals the secret. Angel can't believe it, and he's not exactly thrilled with the idea -- but he doesn't want to clean the bathrooms at Astro Taco on the hour anymore, either. Angel flubs the interview, but once he fixes the boss's car, she takes a chance on him.
So here there are, the two new (cough) lady (ahem) salespeople at Coreco Pharmaceuticals. Let's just hope they hold up better than the gauze they use to strap down their...um, yeah, let's just hope they hold up.