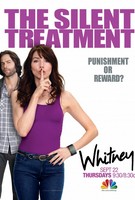 TV Info
---
Episode Premiere
March 07, 2012

Distributor
NBC

Genre
Comedy

Show Period
2011 - 2013

Production Company
Stuber Productions, Universal Media Studios


Cast and Crew
---
Director
Andy Ackerman
Screenwriter
Zachary Rosenblatt
Main Cast
Synopsis
---
Whitney nervously walks through the darkened basement of her apartment building with Neal looking for Alex's tax returns in his storage space. "Last time I was in a space this dark and small, I ate my twin," Whitney says as her claustrophobia starts taking affect. Neal cautiously asks Whitney about Lily; he's worried about seeing her for the first time since their breakup. Whitney tells Neal not to worry and then suddenly notices a box filled with female belongings that are not hers. "This must be stuff from one of Alex's ex-girlfriends. This is an ex box!"
Now that Lily has moved into Roxanne's apartment, Roxanne tries nonchalantly to break Lily of her messy living habits. The first rule in the apartment is that Lily needs to clean up after herself, especially when it comes to leaving her hair all over the bathroom. The second rule is that Lily can't leave her prescription pill bottles and vitamins all over the living room. The third rule is to always use a coaster. "But your coasters are so cute, I didn't want to leave a ring on them," Lily tells Roxanne in her defense. As Lily starts to clean up her mess, she accidently knocks over Roxanne's lamp, breaking it. Lily quickly covers up the broken pieces before Roxanne finds out. Later, Mark is with Lily at Roxanne's apartment trying to help her fix all the things she's broken. After breaking the lamp, Lily created a domino effect where she went on to break a chair, a cabinet door and the blender.
Alex arrives home to find Whitney standing next to the ex box, waiting for him to notice. As soon as Alex realizes what she's doing, he tries to quickly defuse the situation by telling her it's just a box from Chloe, an ex-girlfriend. "Haven't I mentioned Chloe?" Alex asks. Whitney says it's the first time she's heard that name, and she has a keen memory when it comes to his ex-girlfriends. "We had a conversation about all our serious exes," Whitney says. "Why'd you lie about Chloe?" Alex defends himself by saying it wasn't a lie, but an omission. Whitney decides to keep the box until she figures out why Alex is acting weird and defensive about Chloe. "You're acting so weird I half expect there to be a second box in the basement filled with pieces of Chloe," Whitney tells him.
Whitney and Roxanne rummage through Chloe's box to see if they can find clues about why Alex kept this particular ex-girlfriend a secret. Roxanne finds a cute pair of jeans and a bracelet in the box and tries them on. Whitney corners Mark to find out what he knows about Chloe. Mark acts coy, not wanting to reveal anything, but Whitney outsmarts him and gets Mark to blurt out that Alex and Chloe were once engaged to be married. "Please don't tell Alex that I told you. He's my BFF," Mark begs Whitney. "Please don't take away that second F."
"You lied to me!" Whitney yells at Alex as she confronts him about knowing he was engaged to Chloe. Alex apologizes and tries to explain himself, but Whitney's not buying any of it. Alex tells her it wasn't a real engagement; he never loved her. Chloe was just so needy and sad after her grandfather died that he panicked and proposed to her at the funeral. "I don't think Zales will be using that story anytime soon," Whitney throws back at him. Alex explains that he tried to break up with her, but she was always so fragile; so he panicked again and broke up with her via a text message. Whitney is in full shock; she can't believe Alex could do such a horrible thing. Then Alex tells her the worst part. "My text got auto-corrected. So the last words she ever got from me were 'Sorry, I can't do this anal more.'" Alex is ashamed of the situation and believes it's the worst thing he's ever done. Whitney tells Alex that in order to gain forgiveness, he needs to return the box to her and apologize.
Roxanne walks into her apartment to find Lily and Mark nervously sitting around, hoping Roxanne will not notice any of the broken items. Roxanne sits on her chair, and it suddenly breaks, sending her falling to the floor. Later, Roxanne tries to figure out how Lily could've broken so much in such little time. Mark chimes in with his advice; Mark believes that Lily is so nervous that Roxanne will stop being her friend if she makes one little mistake that it's causing her to unconsciously be a klutz. To prove his point, Mark hands Lily a plate and asks her to throw it on the ground. "Mark, please don't tell her to break my things," Roxanne quickly tells him. Suddenly Lily grabs the plate and smashes it on the ground! "God, that feels good," Lily says. She's been holding in such nervous energy since her breakup with Neal that she's been wound up too tight. Neal then walks into the apartment and awkwardly sees Lily for the first time since their breakup.
Alex meets with Chloe at a coffee shop. It seems Chloe has not been well since Alex sent her "the text," as her therapy group calls it. The stress of the breakup led her to lose her job, and she now lives with her dad and his new family after the judge ruled she couldn't live alone after the suicide attempt. "But it's making me stronger!" Chloe psychotically says. He quickly hands her the box and apologizes for the way he acted, hoping this meeting will help her gain closure on their relationship. Chloe smiles at Alex, instead of seeing closure, she sees a reason to get back together! "Let's call my therapy group and say suck it fatties!" Chloe says as she grabs Alex's hands in a loving embrace.
Alex arrives home and tells Whitney about the frightening reunion with Chloe. "She thought we were getting back together, so I had to break up with her all over again." Alex then apologizes to Whitney for the way he treated her; he shouldn't have lied about Chloe. Whitney accepts the apology and reveals that she was mostly hurt because she'll never be the first girl that he proposes too. "That's the sweetest thing you've ever said to me," Alex says as he kisses Whitney. Later, Whitney answers a knock at the door and finds Chloe. "Great, you know where we live!" Whitney says. Chloe bluntly tells Whitney that she just wanted to see if Alex's new girlfriend was prettier, as she looks Whitney up and down. "Yeah, I'm good," Chloe says with a smile as she abruptly walks out the door.