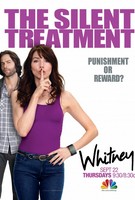 TV Info
---
Episode Premiere
February 22, 2012

Distributor
NBC

Genre
Comedy

Show Period
2011 - 2013

Production Company
Stuber Productions, Universal Media Studios


Cast and Crew
---
Director
Betsy Thomas
Screenwriter
Whitney Cummings
Main Cast
Synopsis
---
"Do you have any interest in being a totally different person?" Roxanne asks Whitney. She's just finished an article on body enhancement and has a box of leftover products. Whitney looks inside the box and finds such items as a fake butt and a bra filled with sand. "Why does everyone hate women?" Whitney asks as she tries on the sand-bra. Roxanne's phone rings; it's Lance. They broke up a week ago, and she's trying to avoid his phone calls. Whitney is shocked to see herself in the mirror wearing the sand-bra. "Whoa, I have boobs... and self-esteem." A deliveryman walks in and is immediately charmed by Whitney and her breasts. "It's a whole new world when you have a D-cup," Roxanne says as they break down laughing.
Lily and Neal are in the middle of a fight as they walk into their apartment. Neal wants Lily to sign a prenuptial agreement before they're married, but Lily believes it's a bad omen for divorce. Neal tries to explain to Lily that a prenup is like car insurance; you get it even though you don't plan to ever use it. Lily rejects that metaphor because she's a horrible driver and uses her car insurance all the time. Lily believes that they should share everything with each other. "What's mine is yours." Neal counters that she believes that because she doesn't own anything; everything in the apartment is his!
Whitney arrives home and excitedly shows Alex her new breasts. While wearing that bra, Whitney has gotten out of a parking ticket and received a free latte. Alex nervously feels the sand-bra and starts to get turned on by it. Before Whitney can take the bra off in the bedroom, Alex rushes in to put it to the test. The next morning, Whitney wakes up to find Alex staring at her. He had fun last night with the bra and wants her to wear it again. "It's like I get to have sex with someone else," Alex blurts out before realizing what he said. Alex tries to apologize, but each new response makes Whitney angrier. She now thinks Alex is sick of her and wants to be with other people, but Alex swears that's not what he meant. "Sometimes it's kinda exciting to be with a new you..." Alex tries to explain. Whitney just wants Alex to admit that he doesn't accept her for who she really is.
Mark and Neal walk into Roxanne's apartment to help pack up Lance's leftover belongings. Roxanne tells everyone she is not heartbroken like before. She's doing okay; she just wishes they had written a prenup, so she could easily figure out who gets what items. Neal suddenly jumps on Roxanne's statement until Lily screams back at him for stating the obvious. Later, Lily tells Roxanne that she's nervous about the prenup because it will reveal all her hidden secrets, like her massive credit card debt. Roxanne asks Lily when she was planning on telling Neal such important information. "Once we get married, none of this is going to matter. He'll be less judgmental and I'll be pregnant." Roxanne begs Lily to tell Neal because she doesn't want them to end up like her and Lance.
Whitney arrives home to find Alex dressed like the actor Jon Hamm from "Mad Men." He's trying to prove his point that Whitney also fantasizes about other people, but she doesn't fall for it. She tells "Mr. Draper" that she's flattered but already has a boyfriend. Later, Whitney and Alex continue fighting about finding each other attractive. Alex sincerely tells her that she is the one true person he cares deeply for. Whitney throws out examples of hot actresses, but Alex tells her he cares more about what's inside a person than what is outside. Whitney buys into what Alex is saying as she cozies up to him until he turns around and says he was lying. He would love to be with a hot actress, but "if I wanted to be with someone else, I'd be with someone else." He's still in this relationship because he cares deeply for her, and nothing is going to change that.
Mark and Roxanne finish packing up Lance's belongings at her apartment. "I can't believe I made the same mistake twice," Roxanne says. "Maybe I'm not good in any relationship." Mark looks at a melancholy Roxanne and suddenly kisses her! Roxanne jumps back in surprise. "Did you just lean in and kiss me?" "I didn't lean in! You lured me in with your whole vibe!" Mark screams to defend himself. He explains that she looked so brokenhearted that he was trying to cheer her up by being her rebound. "I was throwing myself on a grenade!" Roxanne adamantly tells him that nothing will ever happen between them. Mark quickly agrees as they volley insults back and forth until Mark tries to kiss her again. "That's a perfect movie kiss moment!" Mark tells Roxanne as she quickly moves away.
Lily and Neal meet with the prenup lawyer in their apartment. Neal tells the lawyer that this will be an easy contract to write up since they're on the same page about everything. As the lawyer goes down the checklist, Lily finally reveals that she's in massive credit card debit. Lily tells Neal that she has to pretend to be someone else around him because he can be extremely judgmental. Neal is shocked to learn Lily feels this way. "If we can't be ourselves then why are we getting married?"
Alex arrives home to find Whitney dressed up in all of Roxanne's body enhancement products. "This is only going to happen once, so make it count," Whitney tells Alex as they start kissing. As they continue to make out, the products start hurting Alex. The lip balm burns his lips while her fake hair and butt cheeks collapse when he touches them. Alex is suddenly turned off as he sees all the items it takes to make Whitney voluptuous. Alex runs into the bedroom as Whitney chases him with a fake silicone butt cheek.