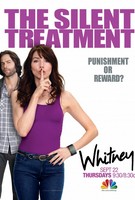 TV Info
---
Episode Premiere
January 18, 2012

Distributor
NBC

Genre
Comedy

Show Period
2011 - 2013

Production Company
Stuber Productions, Universal Media Studios


Cast and Crew
---
Director
Fred Savage
Screenwriter
Theresa Mulligan Rosenthal
Main Cast
Synopsis
---
Whitney exits the bedroom dreading her day. She would've never accepted being Lily's maid-of-honor if she'd known getting up at 9:00 a.m. or wearing a bra on Saturday was a requirement. Alex does not believe Whitney can last as the maid-of-honor; she hates weddings too much. Whitney fights back that she doesn't hate weddings; she just hates the hackneyed traditions performed at weddings. She believes Lily feels the same way, and they'll plan a laid-back affair. Meanwhile Alex is nervous because he needs to create a new website idea to pitch at an upcoming meeting with investors, but he's coming up with zilch.
Whitney meets with Roxanne who gulps down a bottle of water. Roxanne is trying to get hydrated because she's donating blood with Mark for charity. Lily enters with her wedding inspiration book. As they look at the book, Whitney is surprised by how much of a traditional church wedding Lily really wants. Lily explains that it's out-of-the-box for her since her parents were hippies; her mother wanted the ring bearer to be an actual bear. Later, Mark and Roxanne try to donate blood but have trouble filling out the questionnaire regarding how many sexual partners they've had.
Alex excitingly pitches his new website ideas to Neal, but every idea he comes up with is an already existing site with a catchier name. Later, Alex and Whitney walk into a "hip" bar. Alex wears a ridiculous hat, thinking it makes him look young and cool. He plans on soaking up the youth culture to help him brainstorm new ideas. Alex approaches a kid at the bar with a failing handshake, but the kid is also a website creator and is not helpful with questions about the needs of today's youth.
Whitney and Lily taste test several wedding cakes. Whitney explains how she doesn't understand the need for such an extravagant cake that will just end up giving you diabetes. After several more of Whitney's quips, Lily erupts. Lily feels that even though Whitney doesn't like wedding traditions, she does. They mean something special to her, and Whitney's issues are getting in the way. Lily says she'll just plan the wedding herself and walks out. Later, Whitney asks Lily to forgive her. She promises Lily that she'll take planning the wedding seriously. In fact, Whitney even watched sappy romance movies like "Notting Hill" and "My Best Friend's Wedding" to help prepare. Touched, Lily welcomes Whitney back.
Alex walks out of the bedroom ready for his website pitch meeting dressed like a hipster. Whitney tells Alex he looks idiotic with his V-neck shirt, scarf and tight jeans. Alex is positive he looks good because it's the style all the young kids are currently wearing. Later, Alex meets Neal for the pitch meeting. Neal pleads with Alex to change his clothes; he looks too old to wear his current outfit. Alex then admits that he has crumbled under the pressure and has no new ideas to pitch; they should cancel the meeting. Neal believes in Alex and knows that he can think of a new great idea soon. Suddenly Alex has a brainstorm as he looks at his clothes. "Am I Too Old to Pull This Off.com!" It's a website service where people can send in their pictures and others can vote to answer if the uploader looks like a "tool."
Whitney is happily wedding dress shopping with Lily, or at least pretending to be happy. She is acting overly positive for every bridesmaid dress and wedding dress option shown. Lily finally wears an extreme wedding dress that no one would ever like, but Whitney says she does. Lily fights back saying she only wore that hideous dress to find out if Whitney was being truthful or not. Lily erupts again, telling Whitney she doesn't want a maid-of-honor who is fake with her opinions; she wants someone who is truthful. The two friends agree that they will reach a happy medium of truth and respect.
Mark and Roxanne wait in worry for their STD exam results. They admit to each other that they might have exaggerated the number of their past partners. Mark said he had been with 58 women, but then he opens up that seven is his real number. Roxanne asks why he felt the need to lie. Mark replies that he just felt embarrassed that he feels sex should only be shared with someone special.
Whitney congratulates Alex on his successful pitch meeting. She then tells Alex about some of the meanings behind wedding traditions. Alex is impressed and surprised by Whitney's latest tolerance on weddings. Whitney tells Alex that she's just evolving. Months later, Whitney is dressed in a gorgeous white gown excited for her own wedding. Whitney's turns to a mirror and starts practicing her romantic vows. "To have and to hold. To love and to cherish..." Suddenly Whitney wakes up screaming in bed; it was just a horrible nightmare.