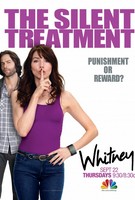 TV Info
---
Episode Premiere
December 08, 2011

Distributor
NBC

Genre
Comedy

Show Period
2011 - 2013

Production Company
Stuber Productions, Universal Media Studios


Cast and Crew
---
Director
Andy Ackerman
Screenwriter
John Quaintance
Main Cast
Additional Cast
Synopsis
---
When Alex learns that his parents are headed on a cruise to Mexico for Christmas, he's thrilled... ecstatic even, at the opportunity to spend Christmas with just Whitney. But there's just one minor obstacle; Whitney told her mom that she'd spend Christmas with her and her crazy aunts.
But Whitney gets an idea... what if she DOESN'T have to spend Christmas with her mom? Growing up, Christmas was absolutely terrible for her; her parents would yell and scream in their room while poor young Whitney was left by herself. She certainly doesn't owe her parents anything. In fact, she owes it to herself to have a great Christmas and start her own traditions with Alex and their friends.
Whitney invites over her mother, Candi, to break the news to her that she and Alex are going on a cruise to Mexico with Alex's parents. Whitney figures that this harmless lie will be better than telling her mother the cruel truth. Candi is clearly disappointed, but she doesn't push the issue and tells Whitney to have a great time.
Later, the gang is getting in the Christmas spirit, decorating Whitney and Alex's apartment. No screaming... no yelling... this is a Christmas tradition that Whitney could get used to! Roxanne reveals that she's going to be a sober woman for a while; after last night's drunk dial to her ex-husband, Lance, she needs to take a break from drinking. The gang is supportive, but Roxanne's sober clarity starts to do more harm than good, as an emotional and heartbroken Roxanne takes hold.
Whitney's peace of mind is brought to a screeching halt when her father pops in for a surprise visit. Her off-the-wall father is up to his usual antics, lying compulsively and excitedly bouncing around the apartment. He gives Whitney a gift he claims is from Jakarta, but it still has its Cost Plus World Market sticker on it. Whitney breaks the bad news to her dad: it's great that he stopped by, but she and Alex are taking a cruise to Mexico with his parents. Whitney's dad apologizes for dropping in unannounced and insists on driving them to the airport.
Whitney and Alex arrive at the airport with their hurriedly packed suitcases in tow and say goodbye to Whitney's father. Only after her dad leaves to spend Christmas at his inevitably dingy motel (he claims he's staying at the Four Seasons), Whitney is hit with an unfamiliar feeling: guilt. Despite his compulsive lying, her dad is a sweetheart, and the thought of him spending Christmas alone is too much to bear.
Whitney and Alex track down Whitney's dad and arrive at his hotel room, only to have Whitney's mom answer the door in a robe! It looks as though the two were sneaking around behind Whitney's back. Whitney's had it with the lies; even though she admits her story about the cruise was a scam, this is even worse!
Back at the apartment, Whitney is clearly heartbroken but insists that the gang stick around to help her create new Christmas memories. Their first Christmas tradition is going to be honesty; everyone is required to tell the truth on Christmas.
Whitney's parents arrive at the apartment, interrupting Whitney's truth circle, to apologize for their behavior. Whitney is completely fed up and explains to her parents that after years of hearing them fight on Christmas she just wants some peace. Whitney's parents make a surprising confession; they weren't fighting on Christmas, they were doing... another bedroom activity. Whitney is horrified, but her parents try to put a positive light on it. Despite all the ways in which they don't get along, every Christmas they were able to put their differences aside and appreciate what a wonderful daughter they raised.
Alex admits that, after meeting Whitney's family, he almost broke up with her; dishonesty often runs in the family. But he's certainly glad he didn't because Whitney turned out to be an amazing woman who values honesty in a relationship.