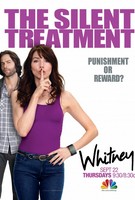 TV Info
---
Episode Premiere
December 01, 2011

Distributor
NBC

Genre
Comedy

Show Period
2011 - 2013

Production Company
Stuber Productions, Universal Media Studios


Cast and Crew
---
Director
Andy Ackerman
Screenwriter
Whitney Cummings, John Quaintance
Main Cast
Additional Cast
Synopsis
---
Now that Lily and Neal are engaged, Lily's got a big question for Whitney... will she be her maid of honor? Whitney accepts the task enthusiastically; while she doesn't like the idea of getting married herself, helping out Lily is something she can get behind. It's time to get down to brass tacks; Whitney's first job as the MOH is planning the engagement party. Roxanne arrives, happy to hear that she doesn't have to shoulder the burden of MOH. The conversation turns to babies, making Whitney visibly uncomfortable. Apparently, Roxanne's doctor told her that if she wants to have kids, she needs to think about freezing her eggs. Roxanne mulls it over, seriously considering this option.
Hanging with the guys, Neal worries about what Lily has in mind for their engagement party. Apparently, he has a lot of clients attending, one of which happens to Mark's ex-girlfriend, Madeline Bowman. Mark tries to play it off like he broke Madeline's heart, but really he's the obsessive ex; her Facebook page is his computer's homepage. The thought of seeing Madeline again gets Mark all riled up... could there still be something between them?Later, Whitney is up in the middle of the night, completely preoccupied with planning Lily's engagement party. She's tried every insomnia cure but nothing's working; she just can't get her mind to rest. Alex insists that Whitney pay a visit to her old psychiatrist, Dr. Price, for help.
While Whitney's sharp-tongued therapist attempts to get to the heart of the issue, Whitney is more concerned with getting a prescription and taking off, even though it's a short-term fix. Dr. Price warns that there's no such thing as a shortcut to happiness.Roxanne decides to move forward with freezing her eggs, but learns that this requires giving herself a shot at the same time each day. When Roxanne goes to Whitney for help, Alex is the only one at the apartment, so the duty of administering the injection falls on him. It turns out Alex's fear of needles is as bad as Roxanne's; after injecting Roxanne, Alex freaks out and leaves the needle dangling from her stomach.
Whitney is happy to find that the sleeping pill she was prescribed knocks her out immediately. But things take a turn for the worse when Alex is woken up in the middle of the night by Whitney making noises in the kitchen. He finds her standing on the kitchen table, in her Prom dress, clearly a very active sleepwalker. Her antics are relentless, and Alex has a hard time keeping track of "poltergeist Whitney.
The next morning Whitney wakes to find the apartment a complete mess. Alex informs Whitney of her new sleepwalking habit; apparently, these pills have a pretty nasty side effect. After checking her phone, Whitney discovers more nighttime activity; she sent a supportive email to herself, in addition to making a number of online purchases.
Whitney returns to see Dr. Price, this time with Alex in tow. She explains that Whitney's insomnia is a result of her deep-seated fear of marriage surfacing through planning Lily's engagement party. Further, if Whitney can clear this hurdle and know that she's done a good job, she should have a much easier time sleeping.
The engagement party turns out to be a hit, and Lily and Neal thank Whitney for doing such a great job. Meanwhile, Mark arrives late, afraid of seeing Madeline. He decides to walk right up to Madeline and try to give it another shot, only to discover she's engaged.
Even after putting on a great party, Whitney doesn't sleep again. She wakes up to find baby shoes came in the mail, another side effect of her sleep-shopping. Alex and Whitney go to Dr. Price to discuss the baby shoes and try to put this issue to bed. When Whitney explains that kids aren't in their plan, Alex notes that kids are in HIS plan; they've just never talked about it. Things take a serious turn; Whitney not wanting kids might be a dealbreaker for him.
Back at the apartment, Whitney makes a surprising confession; she would never consider kids unless she was married to the right person. And she may, actually, budge on her anti-marriage stance if it were to a guy like Alex. It turns out marriage and kids just might be in the cards for Alex and Whitney.