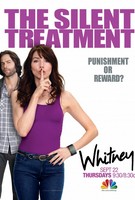 TV Info
---
Episode Premiere
November 10, 2011

Distributor
NBC

Genre
Comedy

Show Period
2011 - 2013

Production Company
Stuber Productions, Universal Media Studios


Cast and Crew
---
Director
Henry Chan
Screenwriter
Adrian Wenner
Main Cast
Synopsis
---
Whitney and Alex join Roxanne and her latest catch, Rob, for a double date. Things seem to be going great; Rob's quite a catch! Alex and Rob definitely have a bromance happening and discuss all their favorite hobbies. Alex brings up that he used to play racquetball, in addition to having a poker night with his boys. This is all news to Whitney, who's a little taken aback by these interests Alex used to have.
When Rob heads to the restroom, Whitney and Alex voice their approval of Rob. But Roxanne has her doubts - something's definitely up with him. He asks far too many questions, and it makes her suspicious. Whit and Alex brush off her suspicions; Roxanne's just not used to dating a guy who's actually interested in her and doesn't only talk about himself.
Back at the apartment, Whitney wonders what other mysterious hobbies Alex had before they started dating. She tells Alex that she wants to be a part of his life in new ways - they need to share more interests than having sex.
Later at the bar, Lily joins the gang wearing a bindi and having just arrived from a Bikram yoga session. She explains that after dinner with Neal's parents, she worries that she's not "Indian enough" to marry their son (ignoring the fact that she's not actually Indian at all). Whitney admires Lily's dedication to her relationship and decides to put in a little more effort by playing racquetball with Alex.
Whitney and Alex get down to racquetball, but things go exactly how Alex expected (and exactly the opposite of how Whitney had hoped.) Whitney's hand-eye coordination is pathetic, and she doesn't even come close to hitting the ball.
Whitney and Alex give activity bonding another try, letting Lily and Neal take them out for Thai food (which Whitney hates and Alex loves). Lily pulls a fast one by taking them to get Indian food instead, in another attempt to prove to Neal that she's fully embraced his family's culture. Neal puts his foot down: he's from Ohio, not India. He tells Lily to stop putting on an act; she doesn't need to prove anything to his parents.
After Whitney's failed attempt at racquetball, Alex comments that it's fine that he doesn't have an athletic girlfriend; he can live with it. Whitney is insulted and decides to drop some knowledge; she's an amazing basketball player. In fact, she played on a traveling basketball team in Europe when she was in high school. When Alex doesn't believe her, she challenges him on the court, one-on-one. It's on.
Over at the gym, the gang has gathered to watch this b-ballin' battle of epic proportions. As it turns out, Whitney isn't all talk; she dribbles circles around Alex and crushes him on the court. Alex is a pretty sore loser; his frustration escalates until he has a full-blown meltdown.
Later at the apartment, Alex apologizes to Whitney for his irrational behavior. As it turns out, Alex didn't drop all those hobbies because he started dating Whitney. He stopped because his friends all refused to play with such a sore loser.
Roxanne finally figured out why Rob seemed a little off base with all of his questions. Mark ran a background check on the guy, and as it turns out, he's an identity theft. So that's why he wanted to know Alex's mom's maiden name.