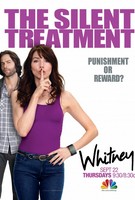 TV Info
---
Episode Premiere
October 27, 2011

Distributor
NBC

Genre
Comedy

Show Period
2011 - 2013

Production Company
Stuber Productions, Universal Media Studios


Cast and Crew
---
Director
John Fortenberry
Screenwriter
Ethan Sandler
Main Cast
Additional Cast
Synopsis
---
When Whitney learns that Alex NEVER washes his jeans, she's understandably left in a state of disgust. Alex argues that washing them changes the shape and fit, while Whitney counters that if he loses his leg to a staph infection from his gross clothes, he won't have any legs to dress anyways. Alex takes a condescending tone with Whitney, telling her that he's a grown man and can be responsible for his own clothes. Whitney calls him out for using that condescending tone that he always pulls on her, but Alex claims no such tone exists.
Whitney later voices her concern about Alex's tone to the group, when Mark suggests that she catch him in the act on camera. He can swipe a hidden camera from the police station and plant it in their apartment. Then all Whitney needs to do is get in a fight with Alex, forcing him to use the tone.
Alex installs camera in a floral arrangement on her dining room table, then returns to his apartment to watch the action go down on his tv. The whole gang has arrived for the showdown, immediately drawn in to the Whitney and Alex show.
When Alex arrives back at his apartment, he discovers that Whitney has put his jeans through the wash. And, as anticipated, they're shrunken and rub him in all the wrong places. Whitney prepares to receive a condescending beat down from Alex, but he's interrupted by the arrival of Alex's brother, Brian.
Brian's in town for a conference, but all Whitney wants is to get him out the apartment and get back to the mission at hand. Alex drives his brother to a business mixer, and while he's gone Whitney ups her game. She leaves little sticky notes all over the apartment asking him to do chores, he HATES that and always uses the tone when she does it.
When Alex gets back, he makes a pit stop at Marks apartment, only to find his apartment on Alex's TV screen. Mark cracks and spills the beans about Whitney's plan. While Alex is at first upset, he gets a strike of inspiration and tells Mark to keep the cameras rolling.
When Alex returns to the apartment, Whitney is stunned to find that the sticky notes do nothing to grind his gears. He takes control of the situation, demanding that Whitney give him the lap dance that he was promised from his last birthday coupon. Whitney, unaware that Alex knows they're on camera, pulls out a series of awkward dance moves until Alex finally tells her that he knows about the camera.
Brian arrives home just as the two are about to get into it. He asks Alex to use his computer, and when Alex gets smart with him he snaps back with "the tone." Alex counters using "the tone" himself as a fascinated Whitney looks on. The two brothers get in a brawl, rolling around on the floor, as Whitney makes sure the hidden camera catches all the action.
Whitney later shows the brothers the video of them using "the tone" on each other. Alex finally owns up to it, but tells Whitney that she has her own annoying habits when they fight as well. Such as...going to crazy and illegal lengths to catch her boyfriend doing something wrong. But, as always, the two kiss and make up.