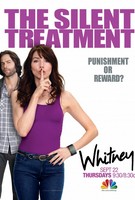 TV Info
---
Episode Premiere
October 13, 2011

Distributor
NBC

Genre
Comedy

Show Period
2011 - 2013

Production Company
Stuber Productions, Universal Media Studios


Cast and Crew
---
Director
Andy Ackerman
Screenwriter
John Quiantance
Main Cast
Synopsis
---
Whitney and Alex watch a romantic movie on the couch. She keeps stopping the film to add her own not-so-romantic commentary.
Lily meets Whitney for drinks. Lily's nervous about Neal proposing, but Whitney reassures her that proposals are outdated anyway. Roxanne pops in and raves about a new guy in her life. He's so great... they just haven't actually met yet. Lily has an epiphany: she'll propose to Neal.
Alex and Mark think that Lily proposing is a terrible idea. According to Alex, it's the last romantic moment a man is in control of; according to Mark, if women proposed, every man would get proposed to on the third date. Mark's had at least six women in his life who would have proposed to him, and he's going to find one of them and prove it.
Whitney and Alex argue over the romance in their relationship. Alex is the romantic, Whitney the cynic. Whitney doesn't think so.
At lunch, Lily tries to figure out what the male equivalent of a ring is, while Roxanne looks around for her cyber crush. Alex keeps texting Whitney romantic things.
Mark calls an ex-girlfriend to confirm that she would have proposed to him. She hangs up. He blames reception. Whitney brings matching heart necklaces home, one for her and one for Alex. The romance battle is officially on.
Whitney, Lily and Roxanne go shopping for Neal's proposal gift. Lily thinks that a sword might be a nice gift because it's an Indian tradition.
Neal gets Mark a table at the most romantic restaurant in Chicago. Alex loves that Whitney is going to hate it. Neal also wants Alex and Whitney to be there when he proposes to Lily that night. Alex can't wait to put Whitney through more romantic endeavors.
Whitney and Alex are on their romantic date. Whitney recites romantic quotes that she has written on her hand; Alex tries to hold hands. The romance ensues, but it's clearly awkward for them to be this romantic.
It's the last stop of the date, and Alex has a picnic planned. As Whitney sits down, a violinist, an opera singer and a pair of swans pop out of the bushes. It's too romantic for her, and she finally puts the romance to rest. Alex wins. Neal runs over and freaks out when he hears Whitney complain about the romantic setup he's created for Lily. Whitney realizes that Alex planned none of this, but tricked her into thinking he did.
Mark arrives with Shannon, a girl he dated for four months in college. Shannon admits that she probably would have asked Mark to marry her back in college. Whitney doesn't buy it. Shannon cracks and admits that Mark bribed her to come.
Roxanne comes in, still texting the guy she's now started to send naked pictures to. Lily finally arrives, and Neal emerges from the bushes. He proposes. Whitney is moved to tears and rubs it in Alex's face. Roxanne gets her final text: she's been flirting with a 15-year-old boy.
Lily never used her proposal sword, so Whitney buys it from her. Whitney uses the sword to act out a funny battle scene with Alex. Then, she knocks over a lamp. Game over.