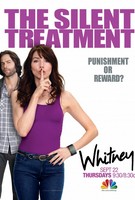 TV Info
---
Episode Premiere
October 06, 2011

Distributor
NBC

Genre
Comedy

Show Period
2011 - 2013

Production Company
Stuber Productions, Universal Media Studios


Cast and Crew
---
Director
Andy Ackerman
Screenwriter
Danielle Sanchez-Witzel
Main Cast
Synopsis
---
At the coffee shop, Whitney catches Alex glancing at a well-endowed woman on her way out. Whitney calls him out: he was totally checking her out! But Alex opts to deny, deny, deny.
Later, the girls are shopping and decide that newly-single Roxanne needs to step up her game. And that all starts with revamping her Facebook profile. How is she supposed to appear desirable if her profile makes her look like a loser?
Meanwhile, Alex explains his recent predicament to the guys. He admits that he did check her out, and Neal agrees with Alex's plan to continue to deny it. Neal does damage control and orders flowers for Lily at this news; fights tend to bleed.
When Mark throws "wheels up!" into their conversation, he explains that he's trying out new catch phrases after a guy at work gained popularity by saying "let's do this thing." Neal and Alex are unimpressed.
Back at the apartment, Whitney and Alex get in a heated argument about the coffee shop incident, but Alex stands his ground. When Alex "shushes" Whitney, she takes personal offense and decides to give Alex the silent treatment.
In an attempt to make Roxanne appear more popular on Facebook, the girls do a photo shoot of Roxanne against a green screen, with the intent of photoshopping her into exotic locations.
While Whitney thinks Alex is suffering miserably, watching TV on the couch all day in his sweats, Alex is actually having the time of his life. Alex explains to Mark that the silent treatment allows him to watch his favorite TV shows undisturbed and be a complete and total slob.
Lily decides that the photos are great, but with Roxanne by herself they turned out a little too eat, pray, lonely. Lily arranges a party, so she can get shots of Roxanne appearing popular.
When Whitney explains the reality of the situation between her and Alex to Roxanne, she realizes that Alex's demeanor is just an act, and he's actually enjoying the silent treatment. She decides it's time to re-think her strategy.
Whitney breaks her silent treatment and starts talking to Alex nonstop about everything and anything she can think of. Slowly, his misery sets in as Whitney wears him down.
Later at Lily's contrived party, Alex finally cracks. He explains that he only didn't tell her the truth because he didn't want to do anything that might make Whitney insecure. They kiss and make up.