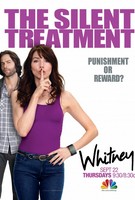 TV Info
---
Episode Premiere
September 29, 2011

Distributor
NBC

Genre
Comedy

Show Period
2011 - 2013

Production Company
Stuber Productions, Universal Media Studios


Cast and Crew
---
Director
Andy Ackerman
Screenwriter
Whitney Cummings
Main Cast
Synopsis
---
The girls rendezvous for drinks, but Lily's more preoccupied with tracking down a hip bartender on twitter. Roxanne can't stay long; she's got a first date. Lily comments that she loves first dates and all the sexy tension that comes along with them, but Roxanne disagrees. She'd rather skip to year two, when she can fart and sleep with her retainer.
This makes Whitney realize that she and Alex never really had a proper first date; their drunken hookup just evolved into a relationship. Whitney tells Alex that she wants him to take her on a first date, and she wants him to ask her properly. Alex concedes but doesn't seem to be taking this whole charade too seriously.
From the get-go, Alex screws up by not dressing up and not picking up on Whitney's cues to do "gentlemanly" things like put on her coat.
At the restaurant, Alex has a hard time pretending that the two are legitimate strangers and thinks Whitney's demands are insane.
Whitney reaches her breaking point when Alex unbuttons his pants before they get in the apartment, complaining about how full he is. She locks him out of the apartment, leaving him to fend for himself.
Alex goes downstairs to Mark's apartment to explain his predicament. Mark suggests that if Whitney wants a first date, he should behave just like he would after a first date. Wait a few days to call her, make her sweat a little.
The next day, Whitney explains the situation to Roxanne. She's just waiting for Alex to call and apologize, which should be any minute now...
When Alex still hasn't called, the girls decide it's time for Whitney to take drastic measures. After a first date, Whitney used to dress up slutty and try and run into a guy somewhere. Stalking a man you already live with... that makes sense.
Whitney's attempt to run into Alex in the lobby goes south when her sexy heel gets stuck in an air vent. The two exchange very awkward post-first date small talk.
When Alex's only follow-up is a text that reads "yo," Whitney decides that she isn't going to sit around and wait for her boyfriend to call her. The ladies are hittin' the town tonight; Lily's tracked down her trendy bartender's location.
The guys show up at the bar as well, which Lily and Neal covertly coordinated. Lily and Whitney decide to dance together; Alex will love it. They even go so far as to kiss, since lesbian behavior is all the rage these days.
Apparently, the strategy worked; Alex approaches Whitney and they have more innocent, awkward flirtation before Alex leans in to kiss her. The two head home to "meet Alex's dog," and they go at it on the couch like a proper second date should end.