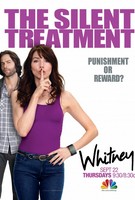 TV Info
---
Episode Premiere
September 22, 2011

Distributor
NBC

Genre
Comedy

Show Period
2011 - 2013

Production Company
Stuber Productions, Universal Media Studios


Cast and Crew
---
Director
Andy Ackerman
Screenwriter
Whitney Cummings
Main Cast
Additional Cast
Synopsis
---
Happily unmarried couple Whitney and Alex prepare to go to a wedding. Whitney is less than excited and can't seem to understand why everyone is so anxious to get married these days. Half of all marriages end in divorce; if half of all planes crashed, would people continue to fly?
At the ceremony, Whitney runs to her friends Neal and Lily, who are completely smitten and clearly still in the honeymoon phase of their relationship after being together for a year. Their other friend, Roxanne, is at the other end of the spectrum. Shouldering a divorce and alimony payments, she's even more cynical than Whitney about the concept of marriage.
As the wedding ceremony commences, things quickly turn south. Whitney finds herself face-to-face with the bride after dropping her cell phone in the aisle and awkwardly discovers that they're matching in yellow. Later, Whitney eats one of the cupcakes from the arrangement intended to be the wedding cake before the appropriate time. Apparently, weddings aren't Whitney's forte.
Alex's policeman friend Mark arrives late; he was busy stalking the bridesmaids on Facebook. Mark engages in shameless sexual puns and makes a pass at Roxanne, which is brutally shut down. The conversation turns to long-term relationships, and Lily notes that according to Cosmo, happy couples have sex four or five times a week. Whitney scoffs: who has time for that?
Later that night, Whitney worries that she and Alex aren't having sex enough. With their three-year anniversary coming up, Whitney promises Alex that a storm of sexy is coming his way.
With help from the girls and a visit to a sex shop, Whitney buys a sexy nurse outfit perfect for the occasion. When Alex arrives home, he's clearly floored by Whitney's getup.
However, Whitney seems to commit to the role a little too much, asking for Alex's insurance card and making him fill out paperwork. Things take a turn for the worse when Whitney goes back to the "filing room" and Alex trips and falls in an attempt to get his pants off, hitting his head.
Whitney rushes Alex to the hospital, and her freak-out comes to a head when she's not allowed back to see him because she's not his wife. The gang arrives to help, including an appearance from Whitney's mom. When Whitney's mom comments that by not being married to Alex, Whitney won't be stuck with him forever, Whitney realizes that that's exactly what she DOES want.
When she finally gets back to see Alex, Whitney proposes to him, telling Alex that she wants to be stuck with him forever. But, to Whitney's relief, Alex turns her down. He says he wants to wait until she's comfortable with the idea of marriage. He loves her so much that he WON'T marry her.