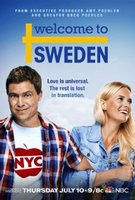 TV Info
---
Episode Premiere
August 28, 2014

Distributor
NBC

Genre
Comedy

Show Period
2014 - Now

Production Company
Entertainment One Television


Cast and Crew
---
Main Cast
Greg Poehler as Bruce
Josephine Bornebusch
Lena Olin
Patrick Duffy
Illeana Douglas
Additional Cast
Synopsis
---
A very hung-over Bruce wakes up in his underwear when Aubrey, also in her underwear, spits water in his face, yammering about how much fun they had last night. Asking Aubrey to be honest, Bruce wants to know if they had sex. When Aubrey claims "it was amazing," Bruce knows she's lying - no one's ever said that to him. Aubrey relents; Bruce was too drunk to have sex, despite her best efforts. Deciding there's nothing left for him in the U.S., Bruce announces he's returning to Sweden, then rushes to the airport hoping to get a ticket that day. But for some inexplicable reason, all the seats to Stockholm are booked. Bruce quickly alienates the woman behind the counter and several passengers as he tries to persuade anyone to give him a ticket. It turns out Amy Poehler bought out all the tickets on the plane to prevent Bruce from leaving New York, but at the last moment, the ticket agent finds a seat for Bruce next to the toilets.
Needless to say, Emma's calls are going to voicemail, and she's worried, so she goes to lunch with her mother just to make herself feel worse. Viveka is still convinced Birger doesn't care about her because of his devotion to the summer house she hates, so she's cruising dating websites. When Emma discovers Gustav is bombarding Birger with the benefits of being single, she pulls him aside to explain that if their parents break up, Gustav will have to grow up. Like get an apartment, pay his own bills and do his own laundry. Fear strikes the heart of Gustav, and he instantly becomes Emma's full collaborator. Emma asks her dad if he's willing to make sacrifices to win her mother back - he is. Like selling the summer house? Anything but that.
Emma and Gustav dress Birger in his captain's uniform, which is a little tighter than it used to be, and drop him off at Viveka's office. Within moments, he runs out in tears. It's not long before Birger visits a therapy group and pours out his heart... until he realizes the group is for widows and widowers. The group members feel violated - but they advise Birger to take advantage of an opportunity they would kill for: a living spouse. Later, Gustav and Emma bring their mother to the summer house, where Birger apologizes for spending more time on the house than on her, sticks a For Sale sign on the lawn, and proposes all over again. The love is back! With her parents reunited, Emma rushes off to the airport, intending to catch the next flight to New York. Luckily, Bruce has just made it back to Sweden and she spies him on the escalator. Bruce has realized that all he wants is to be with Emma, and because of her, he loves Sweden.