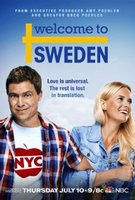 TV Info
---
Episode Premiere
August 28, 2014

Distributor
NBC

Genre
Comedy

Show Period
2014 - Now

Production Company
Entertainment One Television


Cast and Crew
---
Director
Carl Astrand
Screenwriter
Peter Arrhenius, Niclas Carlsson, Greg Poehler, Josephine Bornebusch
Main Cast
Greg Poehler as Bruce
Josephine Bornebusch
Lena Olin
Patrick Duffy
Illeana Douglas
Additional Cast
Synopsis
---
Fresh off the plane from Sweden and flying solo, Bruce binges on American food at a diner - where the waiter thinks he's both European and gay. Back in Sweden, Birger has just told his kids that Viveka wants to take a break from their marriage, when he starts flatlining. Luckily, it's just Gustav, who's been monkeying with the heart monitor. Emma visits her mother to plead her father's case, but Viveka's only interested to changing her Facebook status to It's complicated. Furthermore, they're going out for a ladies night to cheer up Emma, who's missing Bruce terribly. Back at her apartment, Marcus offers his services. He can tell Emma is mad at Bruce, so if she wants revenge sex, he's available. Furious, Emma starts laying down the law.
Back in New York, Bruce reports to Amy's office. Money has been so tight that Amy has fired everyone except a guy named Pepe (real name Gary), who's only there because he's been pretending he doesn't understand English. It's not long before Bruce realizes Amy's job will take more than three months. The truth comes out: Amy wants Bruce to stay in New York forever. If it's Emma that's standing in his way, Amy will buy Bruce three Emmas, shorter ones. It's the middle of the afternoon, but Amy's intent on getting Bruce drunk so he can forget about Emma and Sweden altogether.
That evening, Viveka shows up for ladies' night scratching the air like a cougar in a belly shirt, leather vest and go-go hips. The ladies retire to a noisy bar to watch a soccer match and do shots. Determined to rekindle the life she missed out on when she was young, Viveka takes off her heels and dances down the street, only to cut her feet on a piece of glass. Luckily, Marcus is on hand to drive Viveka across town to the same hospital where Birger's recuperating, so Emma's mission to reunite her parents is achieved. In thanks, Emma offers to take Marcus to dinner... at a hot dog cart. But when Marcus claims hot dogs make him horny, she grudgingly agrees to oysters at a romantic restaurant. By the end of dinner, Emma has softened up... until she finds a huge diamond engagement ring in the dessert menu. Emma leaps to her feet, starts yelling and stalks out.
Across the ocean, a tipsy Bruce pours his heart out to Amy, who could care less. When Bruce gets up to pee, Amy calls Aubrey to put her master plan into effect. Meanwhile, Bruce sneaks out to call Gustav, since Emma won't answer her phone. According to Gustav, Bruce doesn't have to worry, because Emma's out to dinner with Marcus... That's when Aubrey arrives to put some heavy moves on Bruce, starting with dumping his phone in a glass of water. It's time for them to start having fun!