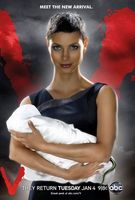 TV Info
---
Episode Premiere
January 04, 2011

Distributor
ABC

Genre
Sci-Fi

Show Period
2009 - 2011

Production Company
HDFilms, Warner Bros. Television


Cast and Crew
---
Director
Bryan Spicer
Screenwriter
Scott Rosenbaum, Gregg Hurwitz
Main Cast
Additional Cast
Jane Badler
Bret Harrison as Dr. Sidney Miller
Roark Critchlow
Rekha Sharma
Mark Hildreth
Synopsis
---
Today's forecast: Cloudy with a chance of red. Actually, that's been the forecast for about four days now thanks to Anna. In what appeared to a fit of human rage, she released Red Sky. What's Red Sky? No one on Earth knows. Make that no one "from" Earth knows. That's why Erica must find a way onto the mothership to question Anna, who has been one tight-lipped V queen as of late.
The captains of the 29 Visitor ships are concerned that human emotions may have led to the sudden release of Red Sky. Anna assures those in her charge that she is complete control. She emphasizes this point on a doubter with a sound thrashing-turned-skewering with her sharp, scaly tail. Anna wants everyone to know that just because she wears human skin, she still one mean lizard leader underneath.
Ryan vows to free his daughter who is being held in a liquid chamber. Anna banishes him to Earth where she hopes to use him to destroy the Fifth Column by using his little lizard girl as leverage. Erica has no time to comfort Ryan regarding Val's death. There's rioting at the Peace Ambassador Center and Tyler is hurt. Erica uses his injury as an excuse to gain access to the mothership just as it begins to rain. It's a red rain. Blood red.
Much to Erica's surprise, Anna agrees to reveal the meaning of Red Sky. She says, "Red Sky is a gift to mankind. A gift of a new beginning. Red sky will heal your oceans. Make fertile your barren lands. And reverse global warming. It will undo a century of damage and give Earth a new beginning. We came in peace as you welcomed us. We will not betray you. We are of peace. Always." Uh huh.
Anna orders Lisa to fulfill her duties with Tyler. Let's hope Erica never sees the video of them rolling around in bed together. That kind of thing could destroy a mom. Then again, Anna doesn't mind watching. It just proves Lisa will make a good queen someday. Little does she know that her daughter has been in cahoots with Joshua, who has been revived for questioning. Lisa is happy that Joshua is alive, but bummed when she realizes he has no memory of his Fifth Column days.
Lisa tells Erica that a scientist named Ellis Watts may have stumbled upon the meaning behind Red Sky. The resistance team meets the college professor's associate, Dr. Sidney Miller (Bret Harrison), who catches sight of Ryan forcing one of Anna's trackers to swallow a suicide pill. POOF! The V tracker turns to dust and the Fifth Column has a new ally.
Sidney thinks the tracker was after him, as he used his boss's computer to research the Red Sky compound. Sid also shows the team the remains of a Visitor he found during a research dig in New Mexico. Why do all otherworldly beings always pop up in New Mexico? Anyway, Sidney named the lizard skeleton with razor-sharp teeth Alpha and kept it hidden from the rest of the world. Until now.
A compound in Alpha matches a compound found in Red Sky. It's a form of phosphorous the Visitors need to reproduce. Anna released Red Sky because she plans to breed V's through humans. Erica was diagnosed with high levels of phosphorus when she gave birth to Tyler. She now wonders if the Visitors could have experimented on her while she was pregnant.
Chad Decker feels guilty for the role he played in luring humans into the Visitor Live Aboard program. He wants to expose the V's for who they are by broadcasting interviews with people who experienced the needle torture he witnessed aboard the ship. Father Jack says he can better serve the Fifth Column by maintaining his relationship with Anna. His exclusive access could serve them well.
Six of Anna's soldiers, a.k.a. her babies, survived the recent bombing. Marcus says, "They'll live, but they will be flawed." Anna knows they are the reason for her prior emotional outburst. Never again. Anna makes sure that these six surviving soldiers will survive no more. She then transports herself to a cavernous area where a woman emerges from some sort of cocoon. As the lady steps into the light, Anna says, "Hello, mother." Anyone else think Anna's beautiful, stone-faced mama looks a tad familiar?