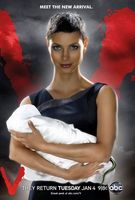 TV Info
---
Episode Premiere
March 30, 2010

Distributor
ABC

Genre
Sci-Fi

Show Period
2009 - 2011

Production Company
HDFilms, Warner Bros. Television


Cast and Crew
---
Director
Yves Simoneau
Screenwriter
Scott Rosenbaum
Main Cast
Additional Cast
Roark Critchlow
Rekha Sharma
David Richmond-Peck as Georgie Sutton
Mark Hildreth
Christopher Shyer
Charles Mesure
Lexa Doig
Synopsis
---
Erica is attacked in her home by the same V security guard who stabbed Father Jack. But this bad bald Visitor tangled with the wrong FBI agent. Erica whacks him in the head with a frying pan and stabs him in the heart (which is actually on the right side of a V body). Ryan helps her ditch the body and convinces this worried mom to resist her urge to storm the V ship to find her MIA son.
Father Jack fights for his life after being stabbed. He's getting top quality medical attention. Unfortunately, it's at a V Healing Center. The good news: They mend his stab wound. The bad news: They inject him with R6, the solution the Visitors have been putting into the human flu vaccine. Georgie tracks down Father Jack, who feels the effects of the R6 shot inside him. He even has a fairly scary lizard-like hallucination.
In her sixth week of pregnancy, Valerie has the appetite of linebacker. She's also having weird cravings. This becomes evident as she gazes hungrily at a dead rodent that's been caught in a mousetrap. Knowing that he shouldn't have been able to father a child with a human, Ryan seeks advice from a V scientist he trusts. Dr. Leah Pearlman says, "I guess nature and fate...they find a way." Dr. Pearlman also reveals that the R6 formula emits a wavelength after injection. Anna is tagging humans like animals in the wild.
To deflect suspicion away from the Visitors regarding the warehouse explosion, Anna provides the FBI with a suspect. They plant the prints of a fugitive mercenary named Kyle Hobbes at the scene of the crime. Why Hobbes? Well, this gun-for-hire bad boy has the knowledge and expertise to train others to fight. That could prove to be a serious threat to the Visitors.
Erica realizes Hobbes could be a powerful ally. So instead of following her sworn oath to arrest this killer, she wants to recruit him. Ryan warns that if they team up with a man like Hobbes to defeat Anna, they'll be crossing a very dangerous line. Erica says, "She has my son. If I have to cross a line to blow that bitch out of the sky...I will."
Infiltrating her old partner Dale's secret files, Erica tracks down Hobbes. After a tense standoff at gunpoint, Hobbes is brought to the church to meet the rest of the Resistance. To convince Hobbes to fight for the greater good, Ryan gives him an inside look at what they are up against. He rolls back his human eyeball to reveal a reptilian one underneath. It's both cool and gross. Erica also offers Hobbes the chance to get revenge on the folks who framed him. She says, "Welcome to the war."
With the supply of R6 destroyed in the warehouse fire, Anna wants to focus on the supply at the Healing Centers. In an effort to convince people to come into the centers, Anna meets with Chad Decker. She preys upon his fear of the aneurism the V doctors claim he'll develop. Her plan works. Chad announces his condition on the air. He will allow the Visitors to save his life as the world watches on TV.
Anna and Lisa are running tests on Tyler. They probe his memories. Anna realizes that Tyler has a strong bond with his mother. She wants him to calm Erica's fears so he can become free from her. This will allow Lisa to be free to fulfill her destiny. Before you ask, we'll tell you there's still no clear indication as to just what her destiny is.
When Tyler finally returns home, he regurgitates a speech Anna gave to him. He tells Erica that she's not going to lose him. He wants to be honest with her. Tyler admits that he joined the Peace Ambassador program and shows his mom the jacket. Erica knows that it contains a recording device, so she chooses her words carefully. She asks for no more secrets about the Visitors. Tyler says the Visitors don't have any secrets. Uh huh.
As the search for Fifth Column traitors continues, Anna orders the captains of the 29 ships to send her their best soldiers. One of them will lead the army she intends to build. Anna makes her choice. She meets up with the soldier in a private chamber. The soldier lies naked on the floor as Anna disrobes and climbs on top of him. Then things get a little steamy. By that, we mean steam envelopes the unclothed pair. Some sort of transference has taken place. Anna rise and says, "It's done. My army is to be born. Now my eggs need nourishment."