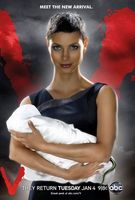 TV Info
---
Episode Premiere
November 17, 2009

Distributor
ABC

Genre
Sci-Fi

Show Period
2009 - 2011

Production Company
HDFilms, Warner Bros. Television


Cast and Crew
---
Director
Fred Toye
Screenwriter
Diego Gutierrez, Christine Roum
Main Cast
Additional Cast
Alan Tudyk as Dale Maddox
Mark Hildreth
Michael Filipowich
Tyler McClendon
Michelle Harrison
Christopher Shyer
Jesse Wheeler
David Richmond-Peck as Georgie Sutton
Roark Critchlow
Britt Irvin
Synopsis
---
Erica is ordered to the Peace Ambassador Center after a death threat is made against the V's. During a sweep of the building, she finds an unconscious security guard whose uniform has been stolen. She tails a possible suspect into the Center. The assassin goes for his gun with Marcus directly in the line of fire. But before he can shoot, Erica takes him down with a few swift punches followed by a nice open field tackle.
Brandon convinces Lisa to meet Tyler at a pizza place where she tells him that he's been allowed back into the Peace Ambassador program. Tyler is ecstatic and Lisa is hungry. Think V's like anchovies on their pizza?
Erica is told that the V's will be taking custody of her assassin suspect. She takes the news in stride since she's more interested in breaking into a restricted room filled with streaming surveillance videos. The images are being transmitted via a hidden camera planted on the jackets of all Peace Ambassadors. Too bad Erica exits the room before catching the footage coming from Tyler's jacket-cam as he leads Lisa into his bedroom.
Ryan meets with Georgie and speaks of someone named John May. He's the head of the Fifth Column, the first group of Visitors to ever turn against the leadership. Ryan insists that if they can find John May, he'll have an army of resistance fighters to help. Their first step is to contact Ryan's former right hand man, Cyrus.
Ryan tracks down Cyrus, who pulls a gun and presses a silent alarm. Cyrus says that if he turns over enough traitors, the V's will "reconnect" him - whatever that means. To Cyrus, being reconnected means getting back the bliss. To Ryan, it means being controlled. Ryan is able to escape before the Visitors arrive. A message has been left on a door that reads "John May lives." When Marcus sees this he says, "There will be no peace."
Dale has regained consciousness but has posttraumatic amnesia. It happens. A medical technician named Joshua helps Dale jog his memory. When Dale realizes that Erica knows his true identity, he wants to kill her. But Joshua says he can't let him do that, as Erica would make for a powerful ally. Dale suddenly realizes that he is in the presence of a traitor. But before he can do anything, Joshua injects him with a needle and says, "The Fifth Column says hello." Here's hoping that Dale is truly dead this time around.
Mary Faulkner is the widow of pilot whose fighter jet went down the day the Visitors arrived. She blames the V's. Anna wants to make an example of Mary so that she doesn't infect others with her bad attitude. She has a private meeting with her moments before a scheduled anti-V press conference. Afterwards, Mary announces she's had a change of heart. Just what you think Anna said (or did) to her behind closed doors?
Father Jack realizes that a man named George Sutton is Georgie, the man who led the warehouse meeting. Jack discovers that Georgie's family was murdered and he blamed aliens for their death. When the two meet, Jack tries to convince a nervous Georgie to help him with the resistance. He says, "There's strength in numbers."
Remember how Tyler bought Lisa home after their pizza date? Well, if they did order anchovies, we're guessing they popped a few breath mints since then. Otherwise they probably would be sucking face so readily in his room. Before things get too hot and heavy, they hear a noise from downstairs. Mom's home!
Tyler quickly ditches his Peace Ambassador uniform explaining to Lisa that mom isn't a big fan of the V's. He tries to keep Erica out of his room, but she knows something's up. She opens the door to see a half-naked Lisa. After Erica orders Tyler to take her home, Lisa confides to Ty that she figured it would be better to be caught in a bra and panties than in a V uniform.
At Father Jack's church, Erica briefs him about the surveillance footage being captured by the Peace Ambassador jackets. Georgie shows up stating that he's brought a friend to help them build the ranks. It's Ryan. Looks like the resistance team is finally starting to come together.
Aboard the mothership, Anna watches as Chad Decker reports that Mary Faulkner's 180 attitude coupled with Anna's announcement that they will not answer in kind to the assassination attempt is a major PR victory for the Visitors. She compliments the man standing beside her on a job well done. The person she's praising just happens to be the would-be assassin. Can you say set-up?
Later, Lisa visits Anna. She declares that Tyler is the one and they should use him. Anna doles out yet another compliment telling Lisa that she's doing an excellent job. Lisa's response: "Thank you, Mother."